®

Today's poem is "The Applicant [4]"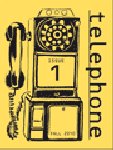 from Telephone
Uljana Wolf
, the German poet and translator, was born in East Berlin, and studied German literature, English, and Cultural Studies, in Berlin and Krakow. Her poems have appeared in journals and anthologies in Germany and all over Europe, as well as in New European Poetry (Graywolf, 2008), Dichten No. 10: 16 New German Poets (Burning Deck, 2008), the Chicago Review, and Shampoo Poetry. She has published two volumes of poetry, kochanie ich habe brot gekauft (kookbooks 2005) and falsche freunde (kookbooks 2009). In 2006, she was awarded the Peter-Huchel-Preis and the Dresdner Lyrikpreis, and in 2008 she received the RAI/Medien-preis at the Meraner Lyrikpreis, a grant from the Deutsche Literaturfonds and from the Deutsche Ubersetzerfonds. She was also the co-editor of the Jahrbuch fur Lyrik (Fischer Verlag 2008). Wolf lives in Berlin and New York.
Timothy Donnelly is the author of Twenty-seven Props for a Production of Eine Lebenszeit and The Cloud Corporation. He is a poetry editor for Boston Review and teaches in the Writing Program of Columbia University's School of the Arts.
Other poems by Uljana Wolf in Verse Daily:
February 25, 2011: "scalawag" "that old toad in my throat..."
Other poems by Timothy Donnelly in Verse Daily:
October 1, 2010: "The New Intelligence" "After knowledge extinguished the last of the beautiful..."
September 2, 2010: "His Theogony" "In the bathtub I envision..."
Books by Timothy Donnelly:

Other poems on the web by Uljana Wolf:
Two poems
Four poems
Other poems on the web by Timothy Donnelly:
"The Night Ship"
"The Driver of the Car Is Unconscious"
"Dark Night on the Inside of a Rock"
Two Poems
"Partial Inventory of Airborne Debris"
"Birdsong from Inside the Egg"
from "Fun for the Shut-In"
Timothy Donnelly according to Wikipedia.
About Telephone:

Subscription: 1 issue, $10
Telephone * Brooklyn NY
Editors: Sharmila Cohen & Paul Legault

Other poems from Southwest Review in Verse Daily:
February 25, 2011: "scalawag" by Uljana Wolf (translated by Ute Schwartz)
Home Web Weekly Features Archives About Verse Daily FAQs Submit to Verse Daily

Copyright © 2002-2011 Verse Daily All Rights Reserved