®

Today's poem is "L'Etat C'Est Moi"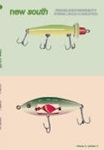 from New South
Ron Slate
's second book The Great Wave was published by Houghton Mifflin in 2009. He reviews books at a website called "On the Seawall" and is writing a novel.
Books by Ron Slate:

Other poems on the web by Ron Slate:
"The Demise of Camembert"
Five poems
"Shame"
Ron Slate's Website.
Ron Slate on Twitter.
About New South:

Subscription: 1 year (2 issues), $8
New South * Campus Box 1894 * Georgia State University * MSC 8R0322 Unit 8 * Atlanta, Georgia 30303-3083 Poetry Editor: James Thomas Miller
Other poems by New South in Verse Daily:
May 4, 2011: "Hooker Avenue Serenade" by Joshua Harmon
May 3, 2011: "Epithalamium" by Gregory Fraser
May 2, 2011: "Jubilee Rotation" by Marc McKee
March 30, 2010: "Fallacy of Accident" by T. R. Hummer
September 15, 2009: "Hay Day" by Robert Wrigley
September 14, 2009: "13 Arkansas" by Stacy Kidd
February 19, 2009: "The Battle-Axe" by Melissa Range
February 18, 2009: "The Natural World" by Peter B. Hyland
Home Web Weekly Features Archives About Verse Daily FAQs Submit to Verse Daily

Copyright © 2002-2011 Verse Daily All Rights Reserved