®

Today's poem is "Jubilee Rotation"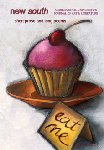 from New South
Marc McKee
received his MFA from the University of Houston, and is currently pursuing a PhD at the University of Missouri in Columbia, where he lives with his wife, Camelia Cosgray. His recent work appears in The Journal, Barrelhouse, Subtropics, absent, Handsome, and is forthcoming from Copper Nickel and The Minnesota Review. He is the author of a chapbook, What Apocalypse?, from New Michigan Press, and a full-length collection, Fuse, which is forthcoming from Black Lawrence Press in 2011.
Other poems by Marc McKee in Verse Daily:
January 22, 2009: "Memory is a Disease of Animals" "This is the shirt you wore..."
December 11, 2008: "Attack Attack" "The imperfect products of the nation-state..."
May 10, 2008: "Tremble" "I am mystified by the fingerprints I have left..."
August 31, 2005: "If I'd Known it was Going to be That Kind of Party" "Switchblades sprout and little else...."
Books by Marc McKee:

Other poems on the web by Marc McKee:
"Some Little Movie"
"Recharger"
"Public Health Response to a Rabid Kitten—Four States, 2007"
Three poems
"Jason Bredle"
About New South:

Subscription: 1 year (2 issues), $8
New South * Campus Box 1894 * Georgia State University * MSC 8R0322 Unit 8 * Atlanta, Georgia 30303-3083 Poetry Editor: James Thomas Miller
Other poems by New South in Verse Daily:
March 30, 2010: "Fallacy of Accident" by T. R. Hummer
September 15, 2009: "Hay Day" by Robert Wrigley
September 14, 2009: "13 Arkansas" by Stacy Kidd
February 19, 2009: "The Battle-Axe" by Melissa Range
February 18, 2009: "The Natural World" by Peter B. Hyland
Home Web Weekly Features Archives About Verse Daily FAQs Submit to Verse Daily

Copyright © 2002-2011 Verse Daily All Rights Reserved