®

Today's poem is "Gacela of Twilight Bats"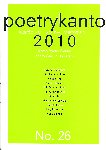 from Poetry Kanto
J.P. Dancing Bear
is the author of nine collections of poetry, most recently, Inner Cities of Gulls (2010), and Conflicted Light (2008) both published by Salmon Poetry. His poems have been published in DIAGRAM, No Tell Motel, Third Coast, Natural Bridges, Shenandoah, New Orleans Review, Verse Daily and many other publications. He is editor for the American Poetry Journal and Dream Horse Press. Bear also hosts the weekly hour-long poetry show, "Out of Our Minds," on public station, KKUP.
Other poems by J. P. Dancing Bear in Verse Daily:
June 10, 2010: "A Brief Informal History" "For us, there was never a Harry Houdini..."
February 26, 2009: "Legitimacy Is So Chummy" "First thing is: everyone presses the room...."
August 21, 2008: "Natural Enemies" "all day the owl is dreaming of a crow, dreaming..."
November 13, 2007: "Poem Starting with a Line by Jason Bredle" " According to Hercules, if we make an angel..."
July 26, 2007: "Gacela of Animal Theory" " Every time I explain Schrödinger's cat to the animal..."
July 16, 2006: "On Falling and Failing" " If Icarus were to speak, he'd kvetch..."
June 28, 2005: "West Nile" "The birds began to rust..."
April 27, 2005: "Iago, the Poet" ""First, let me say it is sickening, this syrupy public..."
February 14, 2005: "Sky of Sleep" "Sometimes she is a tree..."
August 19, 2004: "Gacela of Animal Wisdom" "Apollo, Apollo, when will you leave the animals alone?..."
August 8, 2003: "Island Myths" by "We were once two islands..."
June 14, 2003: "Persephone at the Farmer's Market" "Even now, I cannot lose the memory of scent...."
May 3, 2003: "Departing Phoenix" "I swallow bird songs that do not resurface..."
October 10, 2002: "The Lonelier Moon" "Armstrong has seen it / from its sister...."
Books by J. P. Dancing Bear:

Other poems on the web by J. P. Dancing Bear:
Five poems
Three poems
"Quadruple Life"
"Your Robot Girl"
"Waltz on Black Velvet"
"Pacific Horizon"
"To Live in the Hair of Sargasso Sea"
"Dew You"
"Magpie in My Own Image"
"A Bed And Two Night Tables Attack Ferociously And Violently"
"Prospero, King of the City" and three audio files
Fourteen poems
Five poems
"The Lost Boy"
"Victory — Woman Metamorphosing into a Boat with Angels"
"Offshore Drilling"
Four poems
Three poems
"Spellbound"
Three poems
"Debris of an Automobile Giving Birth to a Blind Horse Biting a Telephone"
"Pack Your Trash"
"Auricle"
"Chiroptera"
"Salvation Nation"
Five poems
Nine poems
"Sisyphus Has Time For One More Question"
J. P. Dancing Bear's Website.
J. P. Dancing Bear on Twitter.
About Poetry Kanto:

Subscription: 1 year
Poetry Kanto * Kanto Gakuin University * 3-22-1 Kamariya-Minami, Kanazawa-ku * Yokohama 236-8502 JAPAN
Editor: Alan Botsford
Other poems by Poetry Kanto in Verse Daily:
January 22, 2010: "Green-Striped Melons" and "Bamboo" by Jane Hirshfield
December 17, 2008: "First Defense" by Megan Gannon
December 15, 2008: "Tell it Slant" by Sally Bliumis-Dunn
Home Web Weekly Features Archives About Verse Daily FAQs Submit to Verse Daily

Copyright © 2002-2011 Verse Daily All Rights Reserved