®

Today's poem is "In Extremis"
from Almost Dorothy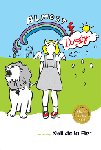 Neil de la Flor
's literary work has appeared most recently in Court Green, No Tell Motel, Hayden's Ferry Review, Sentence, and Barrow Street. He is the co-author of Facial Geometry, (NeO Pepper Press) a chapbook of triads written with collaborator poets Maureen Seaton and Kristine Snodgrass. He teaches at Miami Dade College and lives in Miami, Florida.
Other poems by Neil de la Flor in Verse Daily:
Books by Neil de la Flor:

Other poems on the web by Neil de la Flor:
"Googlism for Steve"
"The Archivist"
Five poems
Neil de la Flor's Website.
About Almost Dorothy:
"With a scenery-chewing imagination, deft linguistic cuts, slippery line breaks and disjointed or dehiscent narrative elements, Neil de la Flor abandons genre rules to explore gender roles, religion, domestic relations, science and history. The poems of Almost Dorothy take place in spectacular leaps away from conventional patterns of development. They suggest a kind of super symmetry that links saints, elementary particles, two boys dressed for Halloween as Dorothy, and a butch Brazilian barman. Revisionary and anachronistic in its referencing and formally restless with its lyrics, lists, prose poems, definitions, and dramatic dialogues, Almost Dorothy is the red-headed stepchild of Antony (without the Johnsons) and Jean Cocteau. Infusing poetry with theater, Neil de la Flor is at once bitingly original, funny, and uncompromising."
—Forrest Gander
"The title of Neil de la Flor's debut collection comes from a story that takes place on a certain Halloween in a certain year of a certain speakerís childhood. Therefore, this engaging little treat is both a trick and a book. Itís a treat for hybridists, cross (genre) dressers, and tin(ted) men alike. Itís tricky in the way we (scarecrows and homos) are suddenly reading a trick play within a trick poem within a kind-of, yes, trick story about lions and bears and Greeks and Toto and Joey?and about a lot of other characters who prance around like tricksters but are nevertheless bound between the covers of this extraordinary book by Neil de la Flor, the wizard, the wise-ass, the boy in the 'two sizes too big green pumps,' also known as Almost Dorothy"
—Maureen Seaton
Support Verse Daily
Sponsor Verse Daily!
Home Archives Web Weekly Features About Verse Daily FAQs Submit to Verse Daily

Copyright © 2002-2010 Verse Daily All Rights Reserved