®

Today's poem is "Ovaries"
from American Amen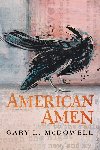 Gary L. McDowell
is the author of two chapbooks, They Speak of Fruit (Cooper Dillon, 2009) and The Blueprint (Pudding House, 2005) and co-editor, with F. Daniel Rzicznek, of The Rose Metal Press Field Guide to Prose Poetry: Contemporary Poets in Discussion and Practice (Rose Metal Press, 2010). His poems have appeared in journals such as Bellingham Review, Colorado Review, Indiana Review, Laurel Review, New England Review, Ninth Letter, Quarterly West, and elsewhere. He currently lives in Kalamazoo, MI with his wife, Mandy, and their young son, Auden, where he's finishing his PhD in American Literature and Contemporary Poetry at Western Michigan University.
Other poems by Gary L. McDowell in Verse Daily:
March 25, 2010: "How to Say I Love You" "On evenings when my dogs and I circle the block..."
Books by Gary L. McDowell:

Other poems on the web by Gary L. McDowell:
"The Bed, The Chair..."
"How Mosquitoes Came to Be"
"Shuttlecock"
"Aubade (I've noticed)"
"Third Metatarsal"
"Nectar"
"Winter"
"Yellow Jackets"
Gary L. McDowell's Website.
Gary L. McDowell's Blog.
Gary L. McDowell on Twitter.
About American Amen:
"Like a man who might go fishing as a diversion only to catch something extraordinary, maybe Gary L. McDowell didn't set out to write a big fat hymn to the human condition. But he did. The brilliant American Amen wrestles, body and spirit, with our belligerent world. It's a tensile poetic line McDowell casts, in the many senses of the word: this poetry throws, sheds, exhales, reckons, sows, shapes, bestows. Part gristle, part faith, American Amen is a beautiful book, reeling in 'something baffling about adulthood' as it glints and flexes, alive, into the air."
—Amy Newman
"Gary L. McDowell's poems shimmer with masterful variety-long sinuous sequences and short intensifying lyrics; personal narratives and prayers to steel, wheat, and corn; family poems, of a father and of a son, yet poems capable of rich otherness: 'I found my history in the tiny / bones of a hummingbird.' For all this productive range, the center of McDowell's impressive first book, American Amen, is love, whose abiding act is acceptance. That's what the word amen means-whether in Jewish, Muslim, or Christian usage-and that's the deepest gift among the many gifts of these poems. As he writes himself, out of loss and gain, out of terror and awe, after all, "in case of fire, any god will do."
—David Baker
"In this age of new-didacticism a reader of poetry might sometimes wish to ask poetry to delight first, then worry about instructing. Gary L. McDowell's American Amen does just that, line by gravid line, one dazzling moment after another, in poems that are wholly true. A romance of place and person continually undergoes scrutiny and comes out from disillusionment to wonder, manifold mysteries, and joy-honest, stunned, self-forgetful glimpses of the illimitable. An unsettling yet steadfast vision obtains, of origin, longing, creation, and departure-all revealed as inevitable yet unpredictable forces of grace. This is an astonishing collection, a poetry of resoundingly human and natural marvels."
—William Olsen
"American Amen is a moving and remarkably mature debut. In it one finds a Midwestern Robert Hass-impeccably tuned to birdsong, the whispering trees, the erotic and broken heartbeat of the every day. The collection wrestles the unbeatable ghosts of family and manhood; what kind of man am I, these poems ask, What does love mean? Hiking through a forest of familial apparitions the poems yearn to understand fathers and grandfathers. In gutting a fish they can find the sublime. Gary L. McDowell's bigshouldered poems house both self-doubt and a bottomless well of kindness. American Amen wondrously pushes into the dark with "its heart in its fists."
—Alex Lemon
Home
Archives Web Weekly Features About Verse Daily FAQs Submit to Verse Daily Support Verse Daily

Copyright © 2002-2010 Verse Daily All Rights Reserved