®

Today's poem is "Anecdote of a Goat"
from The Giving of Pears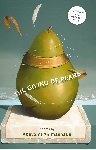 Abayomi Animashaun
is a Nigerian émigré whose poems have appeared or are forthcoming in such journals as 5 A.M., Drunken Boat, African American Review, Diode, and Southern Indiana Review, and he has served as a staff editor for the Red Rock Review. His honors include a grant from the International Center for Writing and Translation.
Books by Abayomi Animashaun:

Other poems on the web by Abayomi Animashaun:
Four poems
Abayomi Animashaun's Website.
About The Giving of Pears:
"Abayomi Animashaun's poems hum inside like a good cocktail. When he invokes, `Lead us into that pure elegance,' he is cherishing cities. foods, colors, human histories of passion and hope, with a lush affection and rich attention. These poems are blessings to the spirit. Their vivid, magical powers of witness lift up the world."
—Naomi Shihab Nye
"In Abayomi's world, gods and prophets and dead friends walk `in and out of walls.' Fruits and animals of a lost ancestral village — guava, iguanas and goats, flock on flock — assert their spiritual presence. To say these are merely 'religious' poems would be an understatement. ..these poems vibrate with living spirits, giving voice and honor to the unseen. Indeed, this is a fresh and dazzling first book."
—Marilyn Chin
"Abayomi Animashaun's The Giving of Pears is a tribute to inner lives: of people, of fruit, of vegetables, of trees. Animashaun's poems read as parables, using magic and myth, to sustain emotional power as he explores violence, tranquility, and the dead. The effervescent surface of these poems and their rich underpinnings make The Giving of Pears an exciting debut."
—Denise Duhamel
"These poems are subtle, wide-ranging, and lovely, recreating a world steeped not only in myth, loss, and the vagaries of memory, but in the daily life of Abayo Animashaun's native Nigeria. Here, a speaker recounts conversations with Mohammed or Noah. Elsewhere, angels hang up their wings and head to the barbershop for a haircut and a shave. One poem teaches us how to speak to birds, another meditates wittily on folklore, while, in a third, the speaker's dead friends walk 'in and out of walls.' And within a kettle, a whole village boils and thrives. By turns erotic, elegiac, and meditative, these rich poems suggest an ambitious, fiercely original young poet, one whose work I'm sure I'll return to again and again."
—Kevin Prufer
Home
Archives Web Weekly Features About Verse Daily FAQs Submit to Verse Daily Support Verse Daily

Copyright © 2002-2010 Verse Daily All Rights Reserved