®

Today's poem is "Climbing White Stork Tower"
from Poems of the Masters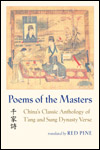 Wang Chih-huan
(688-742) was born in Taiyuan, the provincial capital of Shansi, and later moved to Hsinfeng near the southern end of the same province. When a career in the civil service failed to yield anything but minor appointments, he returned home and spent his time visiting friends and traveling to scenic spots in the area. Wang wrote this poem on a visit to Yungchi, one hundred kilometers south of Hsinfeng. The tower he climbed rose three stories above the southwest corner of the city wall and looked out on the Chungtiao Mountains to the south (which are so high—and the sun's trajectory sufficiently low—the noon sun disappears briefly behind their highest peaks). To the west was the Yellow River, which turned east just after it flowed past Yungchi and headed for the sea one thousand kilometers away. The tower was named for the oriental white storks (Ciconia boyciana) that roosted on its roof, and many poets commemorated the view. Although Wang was famous for his short poems, and many became standard fare for female entertainers during his lifetime, only six survived.
Bill Porter, who assumes the pen name Red Pine for his translation work, was born in Los Angeles in 1943 and grew up in Northern Idaho. He served a tour of duty in the U.S. Army, graduated from University of California, Santa Barbara, and and attended graduate school at Columbia University. Uninspired by the prospect of an academic career, he dropped out of Columbia in 1972 and moved to a Buddhist monastery in Taiwan. Following four years with the monks and nuns, he struck out on his own, eventually working at English-language radio stations in Taiwan and Hong Kong, which afforded him the opportunity to travel extensively throughout China. He has visited the homesteads and graves of all the major poets in this collection, as well as the places where they wrote many of these poems. A Chinese translation of his book Road to Heaven has re-inspired Chinese interest in their own hermit tradition.
In recent years, Bill Porter has devoted himself to the translation of Buddhist texts. Currently, he is working on the Heart of Lankavatara sutras.
About Poems of the Masters:
Poetry is China's greatest art, and Poems of the Masters is one of the classics of Chinese literature. For eight centuries, this anthology of T'ang- and Sung-dynasty poetry has been a part of every student's education. Translated in its entirety for the first time into English, this bilingual edition includes the most-quoted poems in the Chinese language by the giants of the tradition — Tu Fu, Li Pai, and Wang Wei — as well as poems by writers little known in the West.
As in his previous Chinese translations, Red Pine's concise, direct treatment of the poetry, his celebrated scholarship and extensive notes allow the English reader to experience one of the world's great books.
Please support Verse Daily's very generous sponsors:
Sponsor Verse Daily!
Home Archives Web Monthly Features About Verse Daily FAQs Submit to Verse Daily Publications Noted & Received
Copyright © 2002, 2003 Verse Daily All Rights Reserved