®

Today's poem is "Abundance"
from Rattapallax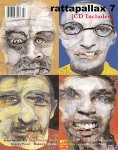 Margaret Ryan
is a speechwriter and teaches poetry at the 92nd Street Y in New York City. Her poetry has appeared in The Christian Science Monitor, The Nation, and Poetry. She has received two grants from the New York State Foundation of the Arts and has written several books, including Figure Skating (Franklin Watts, 1987) and How to Write a Poem (Watts, 1996).
About Rattapallax:
In this issue: Andree Chedid, Fadhil Al-Azzawi, Fatima Qindil, Iman Mersal, Saadi Youssef, Tahar Bekri, Venus Khoury-Ghata, Habib Tengour, Amina Said, Anas Al-Ayla, Muhammad al-Dayrawi, Ghada Shafi'i, Muftah al-Ammari, Amjad Nasser, Maram al-Massri, Yerra Sugarman, Grace Schulman, Agha Shahid Ali, M. L. Williams, Christopher Merrill, Jean Valentine, Glyn Maxwell, Stephen Stepanchev, Marilyn Nelson, Charlie Smith, Andrew Glaze, Kate Light, Anthony Howell, Andre Mangeot, Bertha Rogers, Colette Inez, D. Nurske, Constance Rowell Mastores, JoAnne Growney, Rachel Dacus, Gerard Benson, Gavin Stewart, Eamon Grennan, Jill Devlin, Joanie Kervran Strangeland, Ron Price, Karl D. Gluck, Mario Petrucci, Diane Thiel, Maria Terrone, Peter Bland, Graham Duncan, Deborah Warren, Philip Miller, Johanna Keller, Pascale Petit, Ros Barber, Jeanne Marie Beaumount, Karen Swenson, Rachel Hadas, Robert Kendall, Sue Moules, Teleri Williams, William Zander, Virgil Suarez, M. A. Schaffner, Walt McDonald, Alex Barr, Veronica Golos, Suzanne Noguere, Simone Muench, Len Krisak, Susan Grimm, Miles David Moore, Michael T. Young, Peter Swanson, Peter Salt, Myra Shapiro, Rhina P. Espaillat, Margaret Ryan, William Pitt Root, Barry Wallenstein, Tami Haaland, Lorna Knowles Blake, Gertrude Morris, Gabrielle LeMay, Anita Vitacolonna, Elaine Schwager, Gay Baines, Elaine Sexton, Aimee Nezhukumatathil, Esta Weiner, Amy Meckler and Andrea Hollander Budy.
Subscription: 1 year (2 issues), $14.00
Rattapallax * 532 La Guardia Place * Suite 353 * New York, New York 10012 *
Editor-in-Chief: Martin Mitchell * Senior Editor: Judith Werner

Please support Verse Daily's very generous sponsors:
Sponsor Verse Daily!
Home Archives Web Monthly Features About Verse Daily FAQs Contact Verse Daily Publications Noted & Received
Copyright © 2002 Verse Daily All Rights Reserved

[an error occurred while processing this directive]