®

Today's poem is "Madness in the Form of Birds"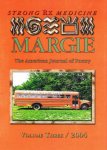 from Margie
George Looney's
first book, Animals Housed in the Pleasure of Flesh, won the 1995 Bluestem Award. His second, Attendant Ghosts, was published in 2000 by Cleveland State University Press, and Pudding House Publications (Johnstown, Ohio) published his Greatest Hits chapbook in 2001. He teaches creative writing and literature at Penn State Erie, where he directs the Creative Writing Program and edits the new literary journal, Lake Effect, and he serves as translation editor of Mid-American Review.
About Margie:
Poets in this issue: Kaye Abikhaled, Melanie Almeder, Kim Anderson Ginger Andrews, Madeline Artenberg, Raffaello Baldini, J. T. Barbarese, Allison Benis, Adria Bernardi, DC Berry, Edward Boccia, Bonnie Hoda Boyer, Carmella Braniger, Gaylord Brewer, Lucie Brock-Broido, Mary Legato Brownell, Rick Bursky, Cathleen Calbert, Clinton B. Campbell, Sharon Chmielarz, Patricia Clark, David Clewell, Wanda Coleman, Billy Collins, Rebecca Cook, Alysa Cummings, Peter Davis, Julia Drescher, Stephen Dunn, Pat Earnshaw, Len Edgerly, Barbara Eidlin, Jim Elledge, R. G. Evans, Jenny Factor, Patricia Fargnoli, Kendra Farhatt, Ian Farrell, Sarah Fay, Melanie Figg, Janie Fink, Susan Firer, John M. Fitzgerald, Alice Friman, Jean Gallagher, Pamela Gemin, Amy Gerstler, Ray Gonzalez, Carrie Grabo, Charla Grenz, Whit Griffin, Piotr Gwiazda, Meredith Davies Hadaway, Mark Halliday, Liz Hammond, Nicole Hardy, Kenneth E. Harrison, Jr, Sarah C. Harwell, Michael Heffernan, Eileen Hennessey, Leigh Herrick, Barbara Hitchcock, Margaret J. Hoehn, Cynthia Marie Hoffman, Peggy Hong, Daniel John, Robert K. Johnston, Troy Jollimore, Allison Joseph, Athena Eleni Kafantaris, Catherine Kasper, Joy Katz, Arthur Kessler, Just Kibbe, Cotton King, Robert King, Jennifer L. Knox, Steve Kowit, David P. Kozinski, David Kresh, Matthew Ladd, Bruce Lader, Rustin Larson, Hailey Leithauser, Rodney Terich Leonard, Stephanie Levin, Laurence Lieberman, Sarah Lindow, Jeanine Lizette, Kelly Lock, George Looney, A. Loudermilk, Joanne Lowrey, Sheryl Luna, Thomas Lux, Sandford Lyne, Stephen Malin, Robert Mcdowell, John Mckernan, Wesley Mcnair, Peter Meinke, Kendra Lynne Melrose, Nadine Meyer, Mary Minock, Michael Mott, Geoff Munsterman, Elizabeth Murawski, Robert Nazarene, Richard Newman, Dustin Nightingale, Jude Nutter, Richard O'connell, Rebecca Okrent, Bink Owen, Suzanne Owens, Maura Payne, Ellen Perless, Russell Powell, Stephen Roger Powers, Elisa Pulido, John Pursley, Iii, Courtney Queeney, Robert M. Randolph, Greg Rappleye, David Ray, Patrick Reis, Peter Rennick, Christine Rhein, Rachel Richardson, Len Roberts, Jay Rogoff, Jennifer Rose, Jamie Ross, Sherod Santos, Robert Sawyer, Teya Schaffer, Kyle Scott, Cathryn Shea, Matt Shears, Yu Shibuya, Shoshauna Shy, Josie Sigler, Charles Simic, Floyd Skloot, Bruce Smith, Heather Smith, Tom Smith, Gerald Stern, Myrna Stone, Julia Story, Joyce Sutphen, Mark Taksa, James Tate, Brian Taylor, Susan Terris, Maria Terrone, Matthew Thorburn, Richard Tillinghast, Alison Townsend, Jennifer Tseng, Alison Turner, Luisa Villani, Diane Wakoski, Cody Walker, Ronald Wallace, Chris Waters, Renee Wells, Liza Wieland, Jerry Williams, William Winston, Jonah Winter, Scott Withiam, Karen Wolf, David Woo, Carolyne Wright, Shana Youngdahl, Elizabeth M. Zatkulak, Fredrick Zydek
Subscription: 1 year (1 issue), $13.95
Margie * PO BOX 250 * CHESTERFIELD, MO. 63006-0250
Editor: Robert Nazarene

Support Verse Daily
Sponsor Verse Daily!
Home Archives Web Monthly Features About Verse Daily FAQs Submit to Verse Daily Publications Noted & Received
Copyright © 2002, 2003, 2004 Verse Daily All Rights Reserved