®

Today's poems are "Birth Ghazal" and "Bridge Ghazal"
from Let's Not Sleep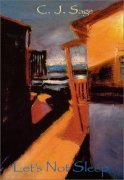 C. J. Sage's
poems have appeared in numerous international and national magazines including The Threepenny Review, The Spoon River Poetry Review, Smartish Pace, The Seattle Review, Light Quarterly, The Bitter Oleander and many others, and have won several literary awards including the Academy of American Poets Prize, several Phelans, and the Folendorf award for outstanding achievement in creative writing. Ms. Sage is also the editor of a new poetry anthology, And We The Creatures, featuring the work of fifty excellent contemporary American poets including David Baker, Scott Cairns, Stephen Dunn, Stuart Friebert, Amy Holman, Bob Hicok, Jane Hirshfield, Ted Kooser, Sarah Lindsay, Wesley McNair, Jane Mead, Lawrence Raab, Diane Thiel, David Wagoner, and Charles Harper Webb. Her own book of poetry is Let's Not Sleep (Dream Horse Press, 2002).
About Let's Not Sleep:
"Through sinewy yet delicate lines, Sage unlocks experience and memory in a meditative exploration of the world, pointing to those truths which can never be fully captured, only illuminated through the radiance of language. Her poems are arresting, gratifying."
—Ryan G. Van Cleave
"I had a sense all through this book that I was reading something extraordinary....Let's Not Sleep is as close to being a perfect first book as I can imagine....Recommendation: Buy this book."
—The Adirondack Review
"The book is filled with beautiful poems and one wants to quote line after line, poem after poem.... ['Bridge Ghazal'] is a wonderful example of how formal poetry can enrich itself, how a modern poet can still write a lyric which extends the form, instead of abandoning it.... Ms. Sage's gifts are immense.... Her formal skills are very strong and varied in their scope. Her voice is both playful and revelatory."
—The In Posse Review
"In this strong debut, C.J. Sage offers us poems where 'Yes and No chase each other round the props of any bridge.' The work in this book affords a subtle command of irony and eroticism .... Read such poems as 'How the Other Half,' 'Say You Love Your Husband,' 'Bridge Ghazal,' 'How to Tell a God,' 'You Are Not a Poet,' or 'She Was Like Persephone' in the bookstore and you will want to buy this book!"
—Ilya Kaminsky
2001-2002 Ruth Lilly/Poetry magazine Fellow
1999-2000 Writer In Residence, Phillips Exeter Academy
"C. J. Sage's new poetry collection, Let's Not Sleep, is a sensual delight—an urgent celebration of our place in nature—and an honest revelation of our arrogance in setting ourselves above and apart—and away—from the natural world of animals, all lovingly trounced in this musical miscellany.... These poems lack all polemics; they reveal that human sorrow, despair, desire, and evil can be seen through engagement in the lives of all creatures, both when they suffer from human misuses and insensitivity and when they don't....As their collective title suggests, these poems sing, dance, and cry with eyes wide open. They resonate with humbling humanity; navigate tirelessly troubled waters; and pulsate sublimely with libidinal energy."
—Ben Bennani, Paintbrush magazine
Please support Verse Daily's very generous sponsors:
Sponsor Verse Daily!
Home Archives Web Monthly Features About Verse Daily FAQs Contact Verse Daily Publications Noted & Received
Copyright © 2002 Verse Daily All Rights Reserved

[an error occurred while processing this directive]