®

Today's poem is "Hopscotch Highway"
from Ruin Porn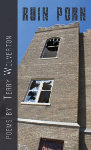 Terry Wolverton
is the author of ten books of poetry, fiction and creative nonfiction, including Embers, a novel in poems, and Insurgent Muse: Life and Art at the Woman's Building, a memoir. She is the founder of Writers At Work, a creative writing studio on Los Angeles, where she teaches; she is also Affiliate Faculty in the MFA Writing Program at Antioch University Los Angeles
Other poems by Terry Wolverton in Verse Daily:
September 6, 2003: "Childless" "The future soaked each month into white fiber..."
Books by Terry Wolverton:

Other poems on the web by Terry Wolverton:
Five poems
Four poems
"Wonder"
"Origami Portrait"
Terry Wolverton's Website.
Terry Wolverton According to Wikipedia.
Terry Wolverton on Twitter.
About Ruin Porn:
"What slips 'between body and imagination' in Terry Wolverton's sensuous poems is a flame-lit liminal margin of time. Ruin Porn intimately occupies both raw city and natural world like a beautiful, 'velvet bomb,' or 'terrible prayer' singing out from the impermanent self 'drunk on [the] gravity' of its own unmaking and remaking. There's her animal wisdom, philosophical and spiritual hunger, and a headlong concrete consequence of accountability, subject for subject, skilled in these pages. For every one of this poet's miraculous hour of now, tomorrow is 'a glowing boat' ready to take you somewhere dream-like new...then, without pause, you want to start over, enter its brilliant whorl and read it from the book's end, and go back to its beginning."
—Elena Karina Byrne
"Terry Wolverton's Ruin Porn is a poetic sequence, gritty and otherworldly at the same time, an autobiography not written in narrative, but music, the deep music of lyric poetry. It is quite a ride. You may recognize some places or objects along the way—a birthday dress, a political rally, a love affair—but you will also find yourself at the center of a whirlwind of imagery. There is loss and conflagration, but always, in the deepest darkness, a song that keeps reasserting itself, whatever the universe may throw at the poet: 'God tricks me with tiny strokes of green/ I come to his music, happy to be fooled.' And you will find yourself happy to be dazzled by these dazzling poems."
—Richard Garcia
"Terry Wolverton works a janky mojo in Ruin Porn, a wary collection of dis•articulations. My favorites display the faint stitches between her deftly cleft words and phrases ('the teeth of money,' '...a garland/of children...'). Yet, even the seemingly seamless poems address dismantlement and the imperfect (re-)alignment between the external world and landscapes of feeling; ideals and day-lit disappointment; nature and human accounting of it. Disassembling without dissembling, Wolverton's restless and skeptical intellect spur this vividly imagined gathering of 'pet worries, always terrible and new.'"
—Douglas Kearney
Support Verse Daily
Sponsor Verse Daily!
Home
Archives Web Weekly Features About Verse Daily FAQs Submit to Verse Daily

Copyright © 2002-2018 Verse Daily All Rights Reserved