®

Today's poem is "Old Fish"
from The Small Door of Your Death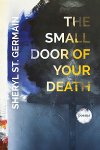 Sheryl St. Germain
is of Cajun and Creole descent. Her awards include two NEA Fellowships, an NEH Fellowship, the Dobie-Paisano Fellowship, and the William Faulkner award for the personal essay. Her poetry books include Going Home, The Mask of Medusa, Making Bread at Midnight, How Heavy the Breath of God, and The Journals of Scheherazade. She has also published a book of translations of the Cajun poet Jean Arceneaux, Je Suis Cadien. Swamp Songs: The Making Of an Unruly Woman, a collection of essays about growing up in New Orleans, was published in 2003. She currently directs the MFA Creative Writing Program at Chatham University in Pittsburgh, where she teaches poetry and creative nonfiction. She has one son, Gray Gideon, who lives in Texas.
Books by Sheryl St. Germain:

Other poems on the web by Sheryl St. Germain:
Two poems
"Louisiana Swamp Poem"
Two poems
Sheryl St. Germain's Website.
Sheryl St. Germain According to Wikipedia.
About The Small Door of Your Death:
"In Sheryl St. Germain's new collection, we find ourselves enthralled by one woman's attempt to look straight into the eyes of Loss without blinking—to speak, without stuttering, grief's true name—a name none of us wants to know, though we always listen for its inevitable approach. St. Germain's work teaches us how to talk back, how to talk through the intimate agonies that, in many ways, define what it means to be human now. Muriel Rukeyser said poetry cannot save us but it is the kind of thing that could. I think this book is proof of that."
—Tim Seibles
"In this brilliant, wrenchingly beautiful book, Sheryl St. Germain limns the unbearable death of her son via overdose, the agonizing history of her family's addictions, and her own fragile recovery. With astonishing lyricism, she gives us 'snow and its dark sister: a kind of brutal cold that stings you awake.' She gives us an 'Ode to Needles,' in which the needles of White Spruce and Lodgepole Pine become the needles both she and her son used to inject drugs. And in 'Versions of Heaven,' she takes us to a place where her musician son might be 'showing the gone ones…how to scat god's breath.' This book is an invaluable companion for anyone who has wrestled with addiction, or lost a loved one to it. St. Germain knows both the rawness of grief, and the ways we must find to go on living. She can help us learn."
—Ruth L. Schwartz
"These poems chronicle the passage of a mother and her son into the abyss of drugs, sorrow, confusion, hope, despair, and love. The mother's voice struggles to bear witness, to be present, forgoing excuses while trying to answer why, the question that rings a million times in mothers' hearts throughout the world, to forever cycle and orbit into every cell of the compassionate and caring heart. This collection gives us answers in gray, neither black nor white, but as they must be in our human experience, gray as the dawn that precedes the rising sun."
—Jimmy Santiago Baca
Support Verse Daily
Sponsor Verse Daily!
Home
Archives Web Weekly Features About Verse Daily FAQs Submit to Verse Daily

Copyright © 2002-2018 Verse Daily All Rights Reserved