®

Today's poem is "Sinkhole"
from The Heart Contracts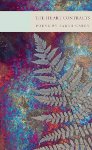 Sarah Carey
is an award-winning writer and public relations specialist whose heart has always been in poetry. A North Carolina native, she grew up mostly in Florida, where she has lived most of her life. After two years at Duke University, Sarah finished her undergraduate education at Florida State University, where she majored in political science and began taking creative writing classes. While in college, Sarah waited tables, wrote copy for the local public television station and covered news and features for the student newspaper, the Florida Flambeau. In 1981, she received a master's degree in English from FSU with a concentration in creative writing. One of the poems from her creative thesis was a finalist in the Academy of American Poets competition and in the final year of her graduate program, Sarah had her first poetry publication in the Florida Review. In the years since, she has received several awards at the contest level for her work and has continued to publish poems in a variety of small magazines and literary journals. She spent ten days as a residency-only student at the MFA program for writers at Warren Wilson College in Swannanoa, N.C. in 1987 and later participated in two Key West Writer's Workshops with the poet Carolyn Forche. After completing her graduate studies, Sarah began working for weekly newspapers in the Florida Panhandle, becoming one of the state's youngest-ever newspaper editors when she was named editor of the Gadsden County Times in 1983 at the age of 25. Many of her stories were honored with awards from organizations including the Florida Press Association, the Florida Press Club and the Florida Medical Association. In 1990, she began working for the University of Florida College of Veterinary Medicine, where she remains today as director of public relations, routinely writing and publicizing stories on topics ranging from veterinary advances benefiting pets, exotic animals, horses and livestock to biomedical discoveries affecting animal, human and environmental health. Sarah's public relations work has received several awards from the Florida Public Relations Association, which named her its Jack M. Detweiler Professional of the Year in 2012. She lives in Gainesville with her husband, Chad Hunsaker, and their black Labrador retriever, Finn.
Books by Sarah Carey:

Other poems on the web by Sarah Carey:
"Exotic Taste"
"Identity Theft"
"WebSinkhole"
"WebSinkhole"
"WebSinkhole"
"WebSinkhole"
"WebSinkhole"
"WebSinkhole"
Two poems
Three poems
Four poems
Five poems
Six poems
Seven poems
Eigth poems
# poems
Sarah Carey's Website.
About The Heart Contracts:
"Every one of Sarah Carey's poems is taut, tense, terse, tough. And close to tiny: most are within a line or two of half a page. In that sense, they're like those little candles some people put around their houses, lighting up everything that's true and beautiful and sometimes scary about domestic life. Oh, and one more thing about these poems: they're terrific."
—David Kirby
"Each syllable of these heart contracts is a muted note, so that losses blend worlds alive in the author, as: It hit me hard when I heard / of the murder. ('No Visible Scars') or I move it from its temporary resting place, / consoled to see the evening light reflect. ('The Gift') and When I bought him / my fears disappeared, my sleep returned. ('Max'). These notes are multi-storied, like every home: Mother, my Hestia, my sacrifice / is for whatever you cultivate in me: / what I had to gut to get / to . . . ('My First Steps'). North Florida, Utah, Alaska—they could be anyplace. These poems deserve discerning readers to treasure them."
—Van K. Brock
"Here is poetry that doesn't babble but waits until it knows exactly what it wants to say then, without waste, says it. Here too is a poet who knows how to order a collection so that it becomes a single, resonant, piece of music. We all enter into contracts with our hearts. Ms. Carey, by sharing hers with us, has given us a gift worth having."
—Lola Haskins
Support Verse Daily
Sponsor Verse Daily!
Home
Archives Web Weekly Features About Verse Daily FAQs Submit to Verse Daily

Copyright © 2002-2017 Verse Daily All Rights Reserved