®

Today's poem is "Pavement 5"
from Pavement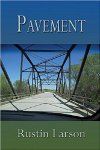 Rustin Larson
's poetry has appeared in The New Yorker, The Iowa Review, North American Review, Poetry East, Saranac Review, Poets & Artists and other magazines. He is the author of The Wine-Dark House (Blue Light Press, 2009) and Crazy Star (selected for the Loess Hills Book's Poetry Series in 2005). Larson won 1st Editor's Prize from Rhino Magazine in 2000 and has won prizes for his poetry from The National Poet Hunt and The Chester H. Jones Foundation among others. A seventime Pushcart nominee, and graduate of the Vermont College MFA in Writing, Larson was an Iowa Poet at The Des Moines National Poetry Festival in 2002 & 2004, a featured writer in the DMACC Celebration of the Literary Arts in 2007 & 2008, and he was a featured poet at the Poetry at Round Top Festival in May 2012.
Other poems by Rustin Larson in Verse Daily:
May 4, 2016: "The Philosopher Savant Contemplates the Dangerous Sun" "The tinsel under which I showered this morning..."
February 6, 2014: "Damaged Enough" "I still my heart and I can hear you..."
February 20, 2013: "The Philosopher Savant Again Dreams of War" "Insurgencies on boundaries of garden..."
September 15, 2002: "The Gerbils" "Happily busy in the middle of the night..."
Books by Rustin Larson:

Other poems on the web by Rustin Larson:
"Bum Canto 1"
"The Carter Family Gets Famous"
Eight poems
"Breakfast on the Terrace"
"Mysterious Island"
Two poems
Five poems
Six poems
"One Cup of Tea"
Seven poems
Rustin Larson's Blog.
Rustin Larson's Website.
Rustin Larson on Twitter.
About Pavement:
"Even for Rustin Larson, a master of invention, Pavement breaks into new territory. 'This aquarium / I swim in every day / funded in part by / the Martian government. . .' I love the images he chooses, where he goes with them, and the way he transforms them. 'a dance I attend / only in my imagination / and then only / as 2nd alto sax. . .' So much in these lines and so much underneath them. 'an otherwise blackened / stage within which / the dance of the silver / gypsies begins.' Brilliant writing, a delight on every page, a joy to read! 'the celestial City / of Wonders / thrown open coldly, / but / with such pulsing beauty."
—Diane Frank
"Larson writes like an angel, but one who's willing to work both sides of the street."
—John Peterson
"Rustin Larson wrote these poems, while wearing a grease stained tee shirt. I wish to buy this guy a collection of fat notebooks, because I want him to keep writing. By the way, he does not know that the cricket crawling up his leg, wants a taste of the ice cream sandwich he ate yesterday. He'll share, he always does. How do I know? I know, because, he's so generous. If you're from Ottumwa, you got it, and don't need to read these poems. Otherwise, buy this book, or you'll never know how to put bat wings on a minivan.Ibu Robin Lim
"Like Odysseus, Larson has been trying to find his way home, or at least to redefine that home. Larson's vehicle for his journey is the process of writing itself, which he has dedicated himself to and which he knows can be both circuitous and serendipitous. But the writer who pursues his craft, like Odysseus who pursues the journey home, must have patience. . . the poet and his journey are one."
—Stephen Schneider
"Each poem in Larson's book is packed with as much detail as a short story. The narrator often alludes to literary works, famous as well as infamous people, easily identifiable locations on the globe, and renowned historical events that either relate to the poems thematically, or place the memories in history for the reader. The poems do not adhere to any one form, but rather, they take form as their contents require. Larson's writing style is multifarious."
—Stephen Page
Support Verse Daily
Sponsor Verse Daily!
Home
Archives Web Weekly Features About Verse Daily FAQs Submit to Verse Daily

Copyright © 2002-2017 Verse Daily All Rights Reserved