®

Today's poem is "Keeping Watch"
from Studied Days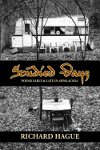 Richard Hague
is a native Appalachian, born in Steubenville, Ohio, just across the river from Weirton, West Virginia. From his boyhood, he visited and later summered occasionally in Monroe County, Ohio, on Greenbrier Ridge, Perry Township. He taught for forty-five years at an inner-city high school in Cincinnati, while also working now and then at Edgecliff College, Xavier University, Northeastern University, The Appalachian Writers Workshop in Hindman, Kentucky, Radford University's Summer Highlander Institute in Appalachian Literature and Writing, and Thomas More College, where he began as Writer-in-Residence 2015. He has conducted workshops, lectures and readings all over the Midwest and Appalachia. Winner of four Ohio Arts Council fellowships in poetry and creative nonfiction, he is a member of the Academy of American Poets, the Appalachian Studies Association, the Southern Appalachian Writers Cooperative, The Mercantile Library, The Literary Club of Cincinnati, and the Irish Heritage Center of Cincinnati. His Milltown Natural: Essays and Stories from a Life (Bottom Dog Press) was a National Book Award nominee. For Ripening (Ohio State University Press) he was named co-Poet of the Year in Ohio in l985. Alive In Hard Country (Bottom Dog Press) was named Poetry Book of the Year by the Appalachian Writers Association, and During The Recent Extinctions: New & Selected Poems 1984-2012 (Dos Madres Press) won the Weatherford Award in Poetry. His latest collection is Beasts, River, Drunk Men, Garden, Burst, & Light: Sequences and Long Poems (Dos Madres Press, 2016). He has also edited two anthologies, Quarried: Three Decades of Pine Mt. Sand & Gravel, Southern Appalachian Writers Cooperative (2015) and for Dos Madres, Realms of the Mothers:The First Decade of Dos Madres Press (2016) He continues to live in Cincinnati, and to operate Erie Gardens, a small urban organic farm.
Other poems by Poet Name in Verse Daily:
May 20, 2017: "Drought" "When we have run our passion's heat..."
Books by Richard Hague:

Other poems on the web by Richard Hague:
"Home"
"The Beast of Waking Up"
Three poems
About Studied Days:
"In Studied Days, Richard Hague weaves a thrilling tapestry of his life along the upper Ohio River and his experiences of other places in rural and urban Appalachia. Although his images of the natural world leave the reader touched and in awe, his insights into the human condition are also memorable. When he brings the two worlds of man and nature together the images left in one's head are even more compelling. When the dean of Appalachian poets, Jim Wayne Miller, died prematurely, Hague wrote: 'Now he is lost to us,/ vanished among tanagers and weevils,/ mayflies, and upland trout.' Studied Days is the work of one of Appalachia's and America's finest poets. The reader will find Studied Days to be not simply a collection of works but a woven story spanning multiple worlds."
—Michael Maloney
"Richard Hague has been quietly turning out wonderful poems day after day, year after year. This volume collects many of those previously uncollected poems, poems filled with Hague's familiar hardscrabble landscape of an Appalachia stretching from Steubenville, Ohio to Troublesome Creek, Kentucky. They are rich poems filled with owls and hickories, gar and blue gill, with love lost and love longed for. The imagery is meticulously observed and deftly rendered, and the storytelling always compelling. And some of the stories—a rare and wondrous accomplishment—are just plain funny as hell. Studied Days is a truly masterful collection you do not want to miss."
—Marc Harshman
"Studied Days sings with strange and sensual enchantment, calling the reader into that other time, that other 'halfway place of slopes' where human longing assumes memory's abiding shapes. Know the well with its 'single eye of moonlight shimmer[ing] at the bottom, forty lean years deep.' Study the woman in the night, naked and sleeping upon creek stone, only one dream away from betrayal—and consider, too, how the bearded, bloodied, drunken man stumbles through 'frog-slicked ditches' toward experience's ripening truth. The Appalachian Ohio landscapes of Hague's early manhood hold the lonely language of birds, insects, dark waters—it is here where the dead must rise to assume 'the holy duties of their flesh' and where the living keep 'going down' to make sense of the shadowy places beyond home. Exuberance and grief entwine in this stunning narrative collection."
—Sherry Cook
Support Verse Daily
Sponsor Verse Daily!
Home
Archives Web Weekly Features About Verse Daily FAQs Submit to Verse Daily

Copyright © 2002-2017 Verse Daily All Rights Reserved