®

Today's poem is "Parking Lot, Pre-Dawn"
from Ghost Child of the Atalanta Bloom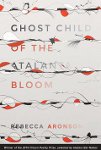 Rebecca Aronson
's first book, Creature, Creature, won the Main-Traveled Press poetry contest and was published in 2007. She also received the 2010 Strousse Award from Prairie Schooner. Aronson's poems have appeared in Tin House, the Georgia Review, Cream City Review, Mas Tequila Review, the Paris-American, and Quarterly West, among other places. She lives in New Mexico where she teaches writing, facilitates a community writing group, and coordinates a visiting writers series for Central New Mexico Community College.
Other poems by Rebecca Aronson in Verse Daily:
April 29, 2014: "[While I—Breathless...]" "While I—Breathless..."
December 9, 2007: "Domain, Wednesday" "The arc of sound firing into the morning, each volley broken in the..."
September 16, 2007: "Missouri" " Near Saint Joseph the fields sigh and corn stands up..."
January 9, 2005: "Love Poem" "Mark the tree of veins that arch and gather, send..."
Books by Rebecca Aronson:

Other poems on the web by Rebecca Aronson:
"Wish"
"Inside the Well"
"Shadow"
"I Was the Girl Who Set the Field on Fire"
"Road Map"
"Gift"
Rebecca Aronson's Website.
Rebecca Aronson According to Wikipedia.
Rebecca Aronson on Twitter.
About Ghost Child of the Atalanta Bloom:
"Explosive, turbulent, haunting, magnetic, Rebecca Aronson's Ghost Child of the Atalanta Bloom begins with a girl who sets a field on fire, an apt metaphor for poems that are themselves fiery. Mortality and death undergird Aronson's fantastical visions, where a child becomes a seagull, a woman turns tarantula, and a house threatens to fill with blood. Fierce vulnerability and brutality excite the perceptions of the ill and the grief-stricken, the child and the new mother who claims: 'With teeth I guard the home, and with breathing.' Details are vaulted to life, wild with electricity–from a canoe to a pearl to a bobbin, 'even the grass / could be an engine of desire.' An acute and visceral brightness–an aliveness–reaches under the eyelids, floating the reader across startling landscapes and dreamscapes, from Pompeii to Jersey City. I could stare all day at the riot of gasping colors, enthralled by Aronson's poems and her 'Ravenous god of little things.'"
—Hadara Bar-Nadav
"The poems in Rebecca Aronson's collection achieve a longed-for but near-impossible mark–they change the very shape and length of the momentary to make time last longer. How does the present, each held breath, bloom and stretch and become an ever-ness, a sustained cherishing? This poet infuses more life into a line than almost any of her peers. This book belongs in a canon with the works of Brigit Pegeen Kelly, Naomi Shihab Nye, James Richardson, and Rita Dove–we have always needed new paths into that deep, attentive, porous and mindful way of being that only poetry can offer. Aronson's is a new route into our oldest and most familiar paradoxes and mysteries, those of love, beauty, connection, (im)materiality and consciousness. Nobody but Rebecca Aronson turns a reality inside out just by the way she looks at it, the way she listens, to reveal ever deeper colors and music than we could have suspected were all around us, and in us."
—Brenda Shaughnessy
Support Verse Daily
Sponsor Verse Daily!
Home
Archives Web Weekly Features About Verse Daily FAQs Submit to Verse Daily

Copyright © 2002-2017 Verse Daily All Rights Reserved