®

Today's poem is "Breath"
from Mandatory Evacuation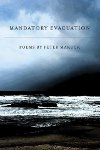 Peter Makuck
is the author of numerous collections of poetry, including six from BOA Editions: Mandatory Evacuation (2016), Long Lens: New & Selected Poems (2010), Off Season in the Promised Land (2005), Against Distance (1997), The Sunken Lightship (1990), and Where We Live (1982). Makuck is also the founder of Tar River Poetry, where he served as editor for nearly thirty years.
Other poems by Peter Makuck in Verse Daily:
October 30, 2005: "Hurricane Warning: Surfers" " Around the bend slides an ocean eerie with storm lights..."
Books by Peter Makuck:

Other poems on the web by Peter Makuck:
Two poems
"Gone"
"Flu Days"
"New Year's Day, Bogue Banks"
Peter Makuck's Website.
Peter Makuck According to Wikipedia.
About Mandatory Evacuation:
"An elegiac aura and, at times, a sense of menace hang over this compelling collection, adding a layer of poignancy—an 'impossible sweetness'—to the quiet beauty that the poems faithfully achieve. Peter Makuck delights in both the natural and human worlds while at the same time diligently 'looking for what's lost' inevitably in the course of a full life. Mandatory Evacuation is mandatory reading for anyone hungry to encounter a thoughtful lyric lucidity that, thankfully, has not yet been lost in contemporary American poetry."
—Jeffrey Harrison
"As one epigraph to his superb new collection, Makuck cites Cesare Pavese's observation that 'we remember moments, not days,' and it feels impossible to imagine a contemporary poet who evokes, precisely, the moments that give life its texture as keenly as this one. The stunning art of Mandatory Evacuation lies in what at first blush seems its artlessness. So willfully does the poet eschew all look-ma-no-hands 'poetic' effect in those evocations that their moving revelations steal upon the reader, who looks up in astonishment, suddenly aware of having been schooled afresh in how to experience the fullness of our world."
—Sydney Lea
"Peter Makuck takes us into meditative space that is both thought and landscape, where we are caught with him in the 'tight grip of a scene' visited by the 'snares of everyday passions.' In Mandatory Evacuation, perhaps his finest book, a deeply accomplished poet faces memory and mortality, earth, sea, and spirit with the quiet energy of a lyric voyager. Beginning with the wildflowers and enveloping art of France, a stray melody in a blood-red Spanish sunset, and backed by the red-tiled roofs of Greece where a priest relaxes into the ordinary, the poems move to America's canyons and distances, and finally to 'Barrier Island,' the place where two immensities meet, a spiritual home. The journey ends with an admonition to forget intellectual fads and settle for the world, which is holy, and into the dream of the soul, which is poetry and prayer. We need these songs by a hunter—and haunter—of beauty, that old-fashioned joy, and mystery, that necessity."
—Betty Adcock
Support Verse Daily
Sponsor Verse Daily!
Home
Archives Web Weekly Features About Verse Daily FAQs Submit to Verse Daily

Copyright © 2002-2017 Verse Daily All Rights Reserved