®

Today's poem is "Portrait of My Mother as a Dried Sunflower"
from Palindrome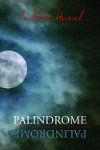 Pauletta Hansel
was born in Richmond, Kentucky, the middle child of Larnie Lewis and Charles Hansel. Her poems and prose have been featured in journals including Atlanta Review, Talisman, Appalachian Journal, Appalachian Heritage and Still: The Journal, and on The Writer's Almanac and American Life in Poetry. She is author of five previous poetry collections, most recently Tangle (Dos Madres Press, 2015) and is managing editor of Pine Mountain Sand & Gravel, the literary publication of Southern Appalachian Writers Cooperative. Pauletta has been involved with the Southern Appalachian Writers Cooperative since its earliest years, and was a member of the Soupbean Poets Collective out of Antioch/Appalachia in the 1970s. She is a Core Member of the Urban Appalachian Community Coalition and has served as Writer in Residence at Thomas More College and at WordPlay Cincinnati. She leads writing workshops and retreats in the Greater Cincinnati area and beyond. In April 2016 was named the City of Cincinnati's first Poet Laureate. Pauletta lives with her husband Owen Cramer in Cincinnati.
Books by Pauletta Hansel:

Other poems on the web by Pauletta Hansel:
"Portrait of My Mother as a Piece of Coal"
Three poems
"Husbands"
Pauletta Hansel's Website.
About Palindrome:
"Palindrome, Hansel's sixth collection, is brave and brilliant. The vision of its title—a word that spells itself in both directions—infuses the whole with understanding that, as she was her mother's daughter, so she has become mother to the child who is her mother suffering dementia. Whether writing in fixed forms, free forms, or from her mother's written memories, Hansel creates a way to bear her readers, her mother, and herself though this harrowing time. This is a hard-won, heart-won book."
—George Ella Lyon
"Pauletta Hansel's Palindrome catches the pain and crisis, connection and severance, peace and chaos of a grown child at the end of a parent's life in a kaleidoscope of poetic and prose forms. In a dazzle of borrowed lines and fresh attentions, we ache with her; we feel her rapture; we come unstuck in time and space with her. Palindrome is a quiet masterpiece of style, a crystalline meditation on what it means to be partial to someone."
—Robert Gipe
"In this wrenching work—sonnet sequences, free verse lyrics, journal entries—Pauletta Hansel confronts the slow and agonizing demise of her dementia-stricken mother. This is not the first time Hansel has taken pen up in an extended confrontation with death; each time she does, we must admire anew her courage, tenacity, and her willingness to give all to art. Palindrome is the saga of a daughter growing older and becoming the caregiver as her mother declines into a sometimes child-like helplessness. And it is the transformation of suffering, grief, and guilt into expert writing of the highest empathy and honesty"
—Richard Hague
"What do we owe the flesh that parted to give us life? Pauletta Hansel's well built poems hold the real story of what hangs in dementia's closet and how far the heart's suitcase can travel. In these poems, we see the way time's thieves are undone by a shoeless child grown into a woman. We bear witness to how carefully she braids touch and humor and remembrance to restitch love's many shawls and blankets."
—Jeanne Bryner
Support Verse Daily
Sponsor Verse Daily!
Home
Archives Web Weekly Features About Verse Daily FAQs Submit to Verse Daily

Copyright © 2002-2017 Verse Daily All Rights Reserved