®

Today's poem is "Night Herons"
from Debris Field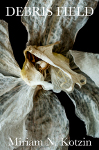 Miriam N. Kotzin
is Professor of English at Drexel University where she teaches creative writing and literature. She was the founding director of the Certificate Program in Writing and Publishing. Country Music joins her collection of flash fiction, Just Desserts (Star Cloud Press 2010), a novel, The Real Deal (Brick House Press 2012), and five collections of poetry Debris Field (David Robert Books 2017), The Body's Bride (David Robert Books 2013), Taking Stock (Star Cloud Press 2010), Weights & Measures (Star Cloud Press 2009), and Reclaiming the Dead (New American Press 2008),. Her poetry received six nominations for a Pushcart Prize. Her work has been published widely in such places as Shenandoah, Boulevard, Eclectica, The Tower Journal, and Valparaiso Poetry Review. She is founding editor of Per Contra and has been a contributing editor of Boulevard since its inception.
Other poems by Miriam N. Kotzin in Verse Daily:
January 5, 2016: "Aviary" "My heart had become home..."
September 14, 2015: "Gatekeeper" "There's something to be said for banality..."
August 5, 2014: "Animal Deaths" "Oh, it's stupid, I know, to be..."
September 3, 2012: "First Winter in America" "First Winter in America..."
Books by Miriam Kotzin:

Other poems on the web by Miriam Kotzin:
Four poems
Three poems
Four poems
Three poems
"The Wise Scimitar"
Three poems
Five poems
Two poems
Two poems
Five poems
Miriam Kotzin's Website.
Miriam Kotzinaccording to Wikipedia.
About Debris Field:
"Miriam Kotzin is that rare contemporary poet whose clear-eyed view of the world is both dark and funny, sometimes uniquely funny. She is also deeply invested in the bitter beauties of the natural world from which she draws a number of her startling images. In Debris Field, she expands her singular journey that has made her one of the best poets of her generation.."
—Richard Burgin
"Poem after poem in Miriam Kotzin's new collection, Debris Field, stuns. Cancer and the Holocaust, pain and fear, ugly in themselves, here occasion breathtaking beauty. A finch, a pear, Elvis Presley(!), riddles and rhymes establish a lexicon of cleverest wit and finely drawn meaning. Moreover, the poems are masterfully orchestrated. You do not want to miss this book, which informs us that 'the dead are wandering around in the rain / again.' For the author, it is a true triumph; for the reader, it is both consolation and inspiration."
—Kelly Cherry
"AwesMiriam Kotzin astounds with the variety of forms and tones her poems take. Meter she treats as a friend and rhyme as a talisman. She revels in light verse with riddles and parodies, but the book begins with a punch to the gut about surviving Cancer, after 'a friend' can only whisper 'The Letter 'C.' Her searing Holocaust poem enjoins us to count the six million dead, and never stop counting, yet 'The Mockingbird Learns to Sing' proclaims: 'The plenitude of the world / seems an open songbook.' Kotzin sings to be heard aloud."
—John Ridland
"Miriam Kotzin hasn't lost her touch or her ear -- she is still one of the best poets around, for which we are grateful, because many of these poems are about her struggle with cancer. It isn't easy to be lyrical about pain and fear, but she does it, 'Resetting' occasionally with pure song and wit."
—Lewis Turco
Support Verse Daily
Sponsor Verse Daily!
Home
Archives Web Weekly Features About Verse Daily FAQs Submit to Verse Daily

Copyright © 2002-2017 Verse Daily All Rights Reserved