®

Today's poem is "to flense"
from Small Gods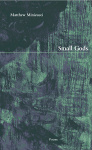 Matthew Minicucci
is the author of one previous collection of poetry: Translation (Kent State University Press, 2015), chosen by Jane Hirshfield for the 2014 Wick Poetry Prize. He is the recipient of fellowships and awards from the Bread Loaf Writers' Conference, the Wick Poetry Center, and the University of Illinois at Urbana-Champaign, where he received his MFA. His work has appeared in numerous journals and anthologies, including Best New Poets 2014, The Gettysburg Review, Kenyon Review, The Southern Review, and the Virginia Quarterly Review. He currently lives in Portland, OR with his partner Elizabeth and their cat, Puck.
Other poems by Matthew Minicucci in Verse Daily:
April 1, 2016: "A Whale's Heart" "There's a sadness that smells..."
March 22, 2014: "Polycarp" "Known for who is known...."
November 26, 2010: "Lobster" "Quiet sun, white dwarf..."
Books by Matthew Minicucci:

Other poems on the web by Matthew Minicucci:
Two poems
Two poems
"Panther"
Three poems
"Crassus"
Two poems
"What we're talking about here"
"to flence"
Two poems
Matthew Minicucci's Website.
Matthew Minicucci on Twitter.
About Small Gods:
"Small Gods by Matthew Minicucci is one of the most beautiful, moving, and intelligent books of poetry I've read in I don't know how long. These poems and prose poems draw from sources as heterogeneous as the Pauline letters, the natural sciences, mathematics and astronomy in order to explore, inhabit, celebrate and mourn the mutability of love, the vulnerabilities of attachment and the unlikely, random and evanescent nature of existence itself. The depth and variety of metaphor mirrors the depth and variety of this poet's remarkable curiosity and openness to the world, in all its glory and horror. The poems stick to memory like burrs to a pant leg."
—Alan Shapiro
"Matthew Minicucci's new book is a balm for our time. In a quiet voice, he counsels, 'Wait, and watch…' Devoid of rhetoric, easy outrage, and exhortation, Minicucci advocates, instead, for the transformative power of close-up scrutiny — poetry's timeless way of looking that encourages the nuanced narratives of 'small gods' living in the margins and crevices of everyday life to rise into view. This is a book of rare intelligence, deep wisdom, and exquisite linguistic beauty. Small Gods enriches us with its moral courage and its compassionate faith in the ultimate value of our fraught humanity."
—Kate Daniels
"Small Gods reads like a sacred text with a tambourine keeping beat behind each verse. Matthew Minicucci manages to conjure not only the collective spirit but also the collective yearning that we may not give permission to express in our day-to-day lives. Whether rendering the quotidian or the biblical—and both appear, seamlessly—these poems ask all the right questions, which are really the answers to our concerns: 'What if silence was the smallest unit of measure for distance between two people. An imaginary number.' Or, what if, for instance, 'The fear that light might only be within; or lost beneath a candle's douter,' could be spoken? Minicucci allows the exploration—and the dread and the hope and the longing—to come to the surface of our lives and he invites us to join in. Amen!"
—A. Van Jordan
Support Verse Daily
Sponsor Verse Daily!
Home
Archives Web Weekly Features About Verse Daily FAQs Submit to Verse Daily

Copyright © 2002-2017 Verse Daily All Rights Reserved