®

Today's poem is "Who leaves me rootless"
from The Lillian Trilogy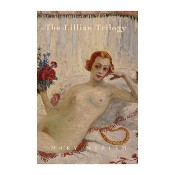 Mary Meriam
advocates for the right of women to love each other in their poetry and art, and strives to give their work a place at the table, even if it's only a table of her own creation. She writes about and publishes such work in the journal she founded, Lavender Review, at the press she cofounded, Headmistress Press, and at Ms. magazine, The Critical Flame, and The Gay & Lesbian Review. Her poetry collections, The Countess of Flatbroke, The Poet's Zodiac, The Lillian Trilogy, and Lady of the Moon, honor a cosmos of strong, creative women. Her poems have appeared in 12 anthologies, including Measure for Measure: An Anthology of Poetic Meters (Penguin Random House, 2015), and many publications, including Literary Imagination, American Life in Poetry, Cimarron Review, Rattle, and The New York Times.
Books by Mary Meriam:

Other poems on the web by Mary Meriam:
"The Romance of Middle Age"
"Alone in Love"
Two poems
Three poems
"Dinner"
"Night of Snow"
About The Lillian Trilogy:
"This is very strong, fearless stuff, beautiful."
—Rhina P. Espaillat
"Mary Meriam is a rare and original poet. This is a dazzling book, a fusion of anguish and wit and song, written in clear and compelling language. I love the wildness, the inventiveness, the always surprising but accurate metaphors. She writes of real things, real people, always musically. She uses Mother Goose rhythms and rhymes or echoes of Sapphic meters or settings as grim as any of the Grimm Brothers' tales, to tell searing truths that move, frighten, and delight one with the skill of their telling."
—Naomi Replansky
"Mary Meriam is a frightening poet, a frighteningly good poet. The intensity of her writing will frighten you, but also her technical skill. She can put a chill into the most common rhyme. The poems speak like 'a gust of gorgeous / thundering swallows.' She identifies her models as Christina Rossetti and Charlotte Mew, whose Goblin Market and 'Farmer's Bride' rightfully haunt the collection. But her real soulmate is Thomas Lovell Beddoes, the ultimate poet of the queer and scary whose masterpiece, Death's Jest Book, was left appropriately unfinished. She may ask us to 'unspook' her dreams, but we won't succeed. The uncanny is too engrained in her sensibility. All we can ask is that she continue to keep writing."
—David Bergman
"Mary Meriam is a poet who takes risks, by which I don't mean what you think I mean. There's nothing risky about breaking rules that haven't been in effect since 1880. I'm talking about the modern rules, the new respectability, the advice given in poetry workshops by legions of successful poets whom no one reads. Mary doesn't give a shit about Pound's 'don'ts,' she's too busy writing fierce, gorgeous poems about love and pain. She's a true rebel, in all her heartfelt, singsong, vulnerable, girly glory."
—Rose Kelleher
"Mary Meriam is an accomplished technician and imaginative Mother Goose artist, who like Mother Goose (my favorite collection in the world), is almost always serious, even tragic, along with fun. I am floored by poems with lines like the opening of 'I Learn Today My Mother Lied': 'Not one drop of Jewish blood / in me or you!' my mother cried, / as if she had a drop to hide... We are lucky to have her dissident voice."
—Willis Barnstone
Support Verse Daily
Sponsor Verse Daily!
Home
Archives Web Weekly Features About Verse Daily FAQs Submit to Verse Daily

Copyright © 2002-2017 Verse Daily All Rights Reserved