®

Today's poem is "A Wind Comes Through"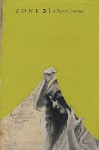 from Zone 3
Mary Ann Samyn
is the author of six collections of poetry, including the forthcoming Air, Light, Dust, Shadow, Distance, winner of the 2017 42 Miles Press Poetry Award. She is Professor of English at West Virginia University where she teaches in the MFA Program in Creative Writing.
Other poems by Mary Ann Samyn in Verse Daily:
March 14, 2013: "Little Muchness" font size=-1>"Some shouting and the tree came down branch by branch..."
April 2, 2012: "In Answer to Your Burning Question" "It was a minor panic, thanks. It was a mirror..."
November 3, 2009: "In a Dark Time Together" "All day I say every blessings I can think of...."
April 2, 2009: "Iridescent, One Might Say" "I was beautiful at a distance..."
June 3, 2008: "Is that robin's-egg blue?, or A Poet Answers Her Critics" "—Some want a guiding principle, narrative pick-me-up...."
November 21, 2006: "Wish and What Happens" " Back to the fe fi ho hum of it...."
November 16, 2006: "An Introduction to Devotion" " Do you consider yourself adept? The face of..."
April 6, 2006: "Clarity, 1.2" " Considering The Despair of St. Thomas...."
October 15, 2004: "A Thought, for Example, Is a Form" "Of light. And at the center, light. And at the edges..."
Books by Poet Name:

Other poems on the web by Mary Ann Samyn:
Four poems
Five poems
"Beneath Speech"
"For Years to Come"
"The Beauty Zone"
"My Life in Heaven"
"First Poem"
Three poems
Two poems
"If This, Then That"
About Zone 3:

Subscription: 1yr (2 issues) $14
Zone 3 * APSU Box 4565* Clarksville, TN 37044
Poetry Editor: Andrea Spofford


October 8, 2017: "Waveland Mississippi, an Elegy" by Ösel Jessica Plante
Home
Archives Web Weekly Features About Verse Daily FAQs Submit to Verse Daily

Copyright © 2002-2017 Verse Daily All Rights Reserved