®

Today's poem is "After You Left,"
from Ephemerist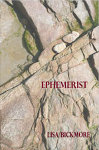 Lisa Bickmore
's poems and video work have appeared in numerous publications, including Quarterly West, Tar River Poetry, Caketrain, Sugarhouse Review, The Moth, Terrain, Mapping Salt Lake City, and Southword. Among her honors are the Ballymaloe International Poetry Prize for 2015, and the 2014 Antivenom Prize for her second book, FLICKER (Elixir Press, 2016). She is Professor of English at Salt Lake Community College, where she is also one of the founders of its Publication Center.
Other poems by Lisa Bickmore in Verse Daily:
February 5, 2016: "Concord" "at leaf lift, fat fruit falling..."
Books by Lisa Bickmore:

Other poems on the web by Lisa Bickmore:
"All Souls"
Lisa Bickmore's Website.
Lisa Bickmore on Twitter.
About Ephemerist:
"In this collection, EPHEMERIST, Lisa Bickmore takes articulate stock of much that is passing before her eyes, and she presses both their presence and their passing for significance. One happens upon brief consolations along this journey through momentary matter, but the base note here is willingness, the connective tissue is hope, and the last word is light."
—Scott Cairns
"'I recognized the urge to capture,' Bickmore writes of Audubon's gorgeous avian portraits, her own desire—like that of the naturalist—to catch a body in flight; to celebrate, in her case, human lives that, over time, both gain and lose memories, loved ones, spiritual beliefs, even a coherent sense of self. Bickmore's beautiful poems are constantly aware of what lies just outside any individual's eye, disappearing from view at the very moment of perception. There is no perfect 'capturing' of a moment, whether in word or image, despite our deeply human desire to fix the world in memory. Thus the elegant poems of EPHEMERIST simultaneously celebrate and elegize, meditating on the uncomfortable relationship we've built between earthly loss and spiritual gain: part of transcendence's paradox, which depends upon our losing some part of the world we love in order to gain a greater sense of it."
—Paisley Rekdal
"'Who can make a true / record from life? Who can tell the story // fairly?' Lisa Bickmore asks. In poem after penetrating poem, she tries, and—in language at once memorable in its expressiveness and exact in its ability to describe what Bickmore sees and feels—she succeeds, all the time attentive to the world outside herself and sharply attuned to the inner lives of others. Few books of poetry, once consumed, leave me feeling 'emptied...of nearly every desire,' but Lisa Bickmore's fine collection is filled so abundantly with aesthetically, intellectually, and emotionally quenching poems that after my first journey through its pages, I felt no need to do anything other than read the book again for its myriad pleasures."
—Andrea Hollander
Support Verse Daily
Sponsor Verse Daily!
Home
Archives Web Weekly Features About Verse Daily FAQs Submit to Verse Daily

Copyright © 2002-2017 Verse Daily All Rights Reserved