®

Today's poem is "A Child's Tyranny"
from Abandoned Earth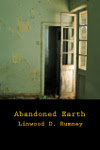 Linwood D. Rumney
's poems have appeared widely in journals. including The Southern Review, Hotel Amerika, Puerto de Sol, New Millennium Writings, Ploughshares, and North American Review, and they have appeared in the anthologies Intimacy (Jacar), Weatherings (FutureCycle), and To Unsnare Time's Warp (Main Street Rag), among others. Translations of Aloysius Bertrand, an early practitioner of the modern prose poem in French, have appeared in Arts & Letters, Hayden's Ferry Review, and elsewhere. An Associate Editor for Black Lawrence Press and a previous Poetry Editor for Redivider, he has received awards from the St. Botolph Club and the Writer's Room of Boston, as well as a residency from the Kimmel Harding Nelson Center. Originally from central Maine, he currently lives in Cincinnati, where he completed a PhD as a Charles Phelps Taft Fellow.
Books by Linwood D. Rumney:

Other poems on the web by Linwood D. Rumney:
"Late Blossoms "
"A Child's Tyranny"
"Leave Me, My Daughter"
"The Uncertainty Principle"
"After the Blueberry Harvest"
About Abandoned Earth:
"In Abandoned Earth, Linwood Rumney creates a world both menacing and comforting at once. While wide-eyed with wonder at life's sorrows, joys and mysteries, he maintains an understated tone that enables him to relate even the strangest events with a measured and convincing voice. This beautifully written collection contains what few books of poetry manage: high spirits, a keen eye and, above all, an embracing wisdom."
—John Skoyles
"This wonderful first collection reveals Rumney as a poet of great tonal and formal range. It wields a poetics hewn from dull jackknives, unpolished stones, and harsh northeastern winters—as luminous and dangerous as the ice that breaks branches with its weight. Yet it also traverses warmer climates, startling with wry odes and candid wit, transforming every object of the mundane into 'a startling and unlikely jewel'"
—Danielle Cadena Deulen
"I love the clarity and precision of Linwood Rumney's poems and his restrained yet intense voice. Intense because it is restrained, pressurized by his deft use of stanzaic structures and forms. Robert Frost and William Carlos Williams seem to be among his influences, but his voice and vision are clearly his own. Rumney writes about the natural world and the human world, and he sees in both of them a terrible excess and a brutal lack. But, as in A Mystery on the Greyhound Bus, he also recognizes that simple beauty persists, like the finch feeding her chicks in a bus station eave while a man on the platform, both laughing and crying, waves to a woman on the departing bus. Far more than simple beauty, that image—and Rumney's poetry throughout this book—is resonant and complex in the most compelling way."
—Eric Nelson
Support Verse Daily
Sponsor Verse Daily!
Home
Archives Web Weekly Features About Verse Daily FAQs Submit to Verse Daily

Copyright © 2002-2017 Verse Daily All Rights Reserved