®

Today's poem is "We, As Other People"
from Imagine Not Drowning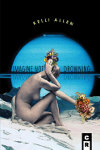 Kelli Allen
's work has appeared in numerous journals in the US and internationally. She served as Managing Editor of Natural Bridge, is the Poetry Editor for The Lindenwood Review, and directs River Styx's Hungry Young Poets Series. She is a Professor of Humanities/Creative Writing at Lindenwood University. Her chapbook, Some Animals, won the 2016 Etchings Press Prize. Her chapbook, How We Disappear, won the 2016 Damfino Press chapbook award. Her newest full-length arrives from C&R Press 2017. Her poetry collection, Otherwise, Soft White Ash, arrived from John Gosslee Books in 2012 and was nominated for the Pulitzer Prize.
Books by Kelli Allen:

Other poems on the web by Kelli Allen:
Two poems
Three poems
"When We Argue About Unraveling Glass"
"This is the center of disappear"
Three poems
"Evolving"
Two poems
"Here Are Instructions for Removing the Scissors"
"Honeycomb Light Cathedrals Upward Like Stars"
Kelli Allen on Twitter.
Kelli Allen on Facebook.
About Imagine Not Drowning:
"Imagine Not Drowning, Kelli Allen's ravishing collection of poems, is a book of abundance and diminishment, a record of pleasure and an instruction manual for grief. In these pages, Allen chronicles bonds and the breaking of them—birds' flight severs the ties of gravity; dementia slowly wrenches language from a father and a father from his family; and love, which never comes / on purpose, shatters everything. In precise, often astonishing language, Allen catalogues the bits and pieces left behind, the jeweled carnage of the human life, our friendship with ruined things. There is a deep tenderness in these poems and a lavish celebration of a beloved, broken world. Kelli Allen is a luminous poet, and this book, in poem after poem, is a recitation / billowing beyond generosity into artifact."
—Francesca Bell
"To read Kelli Allen's Imagine Not Drowning is to enter an enchanted world. From the opening lines 'What if my body fell through bliss, / caught its last small toe on some hook / in descent?' I was swept away. Drawing from myths and fairy tales, superbly crafted, intelligent, and precise, Allen's poetry surprises the reader at every turn. Read this and you will have 'have carried yourself home.'"
—Helene Cardona
"Kelli Allen's poems have a homespun magic that emerges from small events in nature, such as the strangeness of listening to crows make love, and they take us through dark woods and moods in ways that can remind of Robert Frost. But while Frost likes to climb toward Heaven remaining linked to the ground, Allen flings us into the sky with abandon, tells us to 'Hurl your body /up into the rain, head bent back, throat to the clouds.' This is visionary nature, lyric wildness in every cell, falling through bliss and riding wings up into the dream. In this book of parables and new fairy tales the word that keeps coming up is 'home.' Let these poems lift you on their wings and carry you there."
—Dr. Tony Barnstone
"Kelli Allen's exquisite poems haunt me. This sensual, worshipful collection is populated by feathered creatures; ravens, crows, pelicans, soft, brown hens, and the humans who in so many ways resemble them. Hers is the natural world, its order disordered, its rituals askew. A father's death, a lover's betrayal, turn that world upside down. 'We can love what's predatory/if we keep our bodies from being completely/swallowed' she writes. These beautifully crafted poems, like the heron that 'swoops down from a skylight,' offer a kind of salvation, taking the reader on an unforgettable journey through tragedy, grief, and redemption."
—Alexis Rhone Fancher
"In Kelli Allen's Imagine Not Drowning, 'everything begs…to be severed, to be made sweetly clean.' In these poems, grief finds that clean severance, that distance tithed by loss. Though separation demands forgetfulness, the speaker resists, naming everything with memorable lyric clarity. Each poem is an archive of memory, dream, and moment. Nothing is forgotten, not the bag of mice thrown down a well, nor a nesting doll full of fathers, not even the Minotaur playing with his paper ships. Here the world and its absences are articulated, where light confirms what the dark tried to save us from–all these savage songs made sweet by distance."
—Traci Brimhall
Support Verse Daily
Sponsor Verse Daily!
Home
Archives Web Weekly Features About Verse Daily FAQs Submit to Verse Daily

Copyright © 2002-2017 Verse Daily All Rights Reserved