®

Today's poem is "Exposure with Owls"
from Kingdom Come Radio Show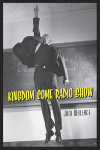 Joni Wallace
's biography is the author of Blinking Ephemeral Valentine (Four Way Books, 2011), selected for the Levis Prize by Mary Jo Bang; and a chapbook, Red Shift (Kore Press, 2001). Her poetry has been featured on the website for the Poetry Society of America and appears in journals and anthologies such as Boston Review, Conduit, Connotations Press, Gulf Coast, Crazyhorse, West Branch Wired, The Volta, and PRIVACY POLICY, THE ANTHOLOGY OF SURVEILLANCE POETICS (Black Ocean, 2014). Joni currently lives with her family in Tucson, Arizona, where she teaches at the University of Arizona Poetry Center.
Other poems by Joni Wallace in Verse Daily:
January 27, 2011: "Valentine with broken birds" "Enclosed find pieces of the starling flown flat..."
January 19, 2011: "Valentine with saints and sharps" "There's not much to do..."
Books by Joni Wallace:

Other poems on the web by Joni Wallace:
Two poems
"Red and Blue Planets"
"I touch the grass I find a Hank song"
Two poems
Four poems
"Documentary with sea, a weeping (Fukushima, 2011)"
"Snow Globe With Frank O'Hara and Arboretum"
Three poems
Joni Wallace's Website.
Joni Wallace on Twitter.
About Kingdom Come Radio Show:
"We know much of what happens when we break atoms apart. Yet how much of that human history can the human voice carry? Even the flesh is an agglomerate of unstable atoms, leaking secrets.This book and its sound pieces show us how the poem, itself rattled by atomic shifts, can carry our shadows. What's left, our earthly remnants, is bathed in the light of song,like a deer leaping through in its precise talent, bones made radiant."
—Eleni Sikelianos
"Kingdom Come Radio Show is a documentary poetics that reads like a gorgeous, shattering symphony. Here the movements of history and the natural world mingle with the strains of personal memoir to create a work of profound music and sensibility. From the terrible imagination of Oppenheimer to the ephemera of mouse tracks, deer antlers, and the 'violinings of crickets,' Joni Wallace has assembled an astonishing elegy for our beautiful, doomed Earth"
—Karen Brennan
"Skeleton grottoes, body sorrows, Hank Williams' cries, a nightjar's singsongs: how tangible the loneliness-es in these poems. In such poems, animals keep their distance. The fenced-off ghosts of atomic-bomb tests are the inscrutable blank spaces on western maps, whose moans haunt the redacted lines of history. Terror and wonder are fleetingly captured in the yellowed documents, hand-held films, radio plays, and chance photographs that make up the post-nuclear world of Joni Wallace's book, which also portends the future—planes become drones, guard towers become cell towers, and the mushroom cloud becomes only the cloud. Wallace is a risk-taking poet who invents new words for old realities, and recovers old words for new realities. We see the terrain in a newly startling light."
—Richard Greenfield
Support Verse Daily
Sponsor Verse Daily!
Home
Archives Web Weekly Features About Verse Daily FAQs Submit to Verse Daily

Copyright © 2002-2017 Verse Daily All Rights Reserved