®

Today's poem is "Bare Metal Install"
from Sure Extinction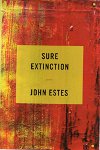 John Estes
directs the Undergraduate Creative Writing Program at The University of Alabama in Tuscaloosa. Previous books include KINGDOM COME (C&R Press, 2011) and Swerve, which won a National Chapbook Fellowship from the Poetry Society of America.
Other poems by John Estes in Verse Daily:
November 9, 2015: "Forced Analogy" "When at last occurs..."
March 27, 2014: "Slow News" "These are momentary sensations, the wild, the windswept...."
September 15, 2011: "I Foresee the Breaking of All That Is Breakable" "Perhaps after all it is, merely, a desire..."
November 10, 2009: "Stray Paragraphs, February, Year of the Rat" "Why we resist coming after, coming second, coming late..."
Books by John Estes:

Other poems on the web by John Estes:
"The Cell"
"Retroactive Continuity"
"Spare Myths"
"The Poem As Lifehack"
[At the solstice]
"Creamline"
"Round About"
"Last Supper"
"Epithalamium"
John Estes's Website.
John Estes on Twitter.
John Estes on Facebook.
About Sure Extinction:
"Sure Extinction is a book of determined disintegrations. It digs up the lawn, buckles the paved road, picks apart the resignations of suburban breadwinning until 'Each has found its element, / and can be broken down no further.' John Estes's poems couple an unsparing awareness of life's failure 'to deliver on its promised deliverance' with an uncompromising intolerance for the lies we tell ourselves in order to believe that it does. In these pages, Estes demands an honest accounting, one in which underwater mortgages and regrets get weighed alongside the soft breath of a sleeping child without anyone knowing which will prove the weightier. These are poems that refuse merely to go through the motions—even if, as Estes fears, 'None of it saves.'"
—Kimberly Johnson
"In John Estes's SURE EXTINCTION, everything is up for grabs. It starts out with the inscription 'A hymn to fate,' and it's a particularly open fate, open hymn, that follows, where anyone's life is, as he writes, 'like yours . . . little / better than, or better for, moving a comma.' We're inscribed by language, yes, he sees that, but it's more than that, it's the very way we imagine not just who we are, but what we can be, just as we define forever 'as however long / it takes before you start / attaching prefixes.' It's a frightening meditation, but it feels right to me. It feels spot on, because he keeps sight of the possibilities inherent in the meditations of language. 'We are obliged to adapt,' he writes, and it's exactly what we need to remember about the forms extinction can take, and their inevitability."
—John Gallagher
Support Verse Daily
Sponsor Verse Daily!
Home
Archives Web Weekly Features About Verse Daily FAQs Submit to Verse Daily

Copyright © 2002-2017 Verse Daily All Rights Reserved