®

Today's poem is "Late Bloom"
from In Full Velvet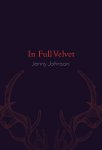 Jenny Johnson
is a recipient of the 2015 Whiting Writers' Award, and the 2016 Hodder Fellowship at Princeton. She lives in Pittsburgh, Pennsylvania.
Books by Jenny Johnson:

Other poems on the web by Jenny Johnson:
Two poems
"Little Apophat"
Four poems
Jenny Johnson's Website.
About In Full Velvet:
"Maybe a voice from the ancients whispers to Jenny Johnson—Sappho or the Muse Euterpe—how to sing of love and death and joy and reality in as many registers as they come in life. Or maybe Johnson is just a genius. In either scenario (though the latter seems the obvious one) the pen of this poet flows with hard-won Old Soul ink—blood and tears and juice and kisses. This breathtaking debut is erotic, sublime, dappled and riven with ripe fruit, wild body, and full-on fauna. Lesbian literary history (and the many queer-hearted literatures that keep us alive) has a new chapter here, inscribed In Full Velvet by this magnificently gifted poet."
—Brenda Shaughnessy
"The sheer joy of Jenny Johnson's poems finds fuel in the work of poets she loves (Hopkins, William Carlos Williams, Larry Levis), in the wild variety revealed by botany and zoology, in the insights of queer and gender theory, in dyke bars and dancing, and most of all in love and desire — that imperative to which, directly or less so, every other element in this list is in service. When someone writes the history of American poetry in our time, the new energies released among the generation now publishing first books will be unmistakable; Johnson strides into a public space secured for her by Rich and Lorde and a host of others, and makes it brilliantly her own."
—Mark Doty
"Pulsing with a formal brilliance and an idiosyncratic lyricism, these poems counter a poetics of ecological crisis by instead enacting a poetics of a shared world within which the human is one species among the species.... They pulse, too, with music and the grace of a world filled with strangeness and ardor. Johnson's diction, raucous and taut, reminds me that English is among the animal sounds we animals make. Like this, her poems enliven my seeing and my thinking about what a poem might do and what a world might be."
—Aracelis Girmay
"Jenny Johnson describes the awkwardness and pain as well as the incalculable pleasure of living at odds with nature. Defiant, winking, and rippling with laughter, In Full Velvet walks us (in boy jeans) through a queer landscape of acrylic fur, dappled flanks, and antlers hot to the touch. This story of a 'heart hunting after a body' does not promise full recovery: even better, it's an invitation to spend a few hours in the dyke bar at the end of the world."
—Heather Love
Support Verse Daily
Sponsor Verse Daily!
Home
Archives Web Weekly Features About Verse Daily FAQs Submit to Verse Daily

Copyright © 2002-2017 Verse Daily All Rights Reserved