®

Today's poem is "Jughead, Mid-Life"
from Missing Persons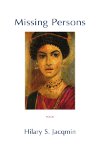 Hilary S. Jacqmin
was born in Boston, Massachusetts and grew up in Shaker Heights, Ohio. She earned her BA from Wesleyan University, her MA from the Writing Seminars at Johns Hopkins University, and her MFA from the University of Florida. She lives in Baltimore, Maryland, where she is an editor at Johns Hopkins University Press. Her work has appeared in Painted Bride Quarterly, PANK, Best New Poets, DIAGRAM, FIELD, and elsewhere.
Books by Hilary S. Jacqmin:

Other poems on the web by Hilary S. Jacqmin:
Two poems
Two poems
"Day of the Dead"
Two poems
Two poems
"The Stars' Tennis Balls"
"Ballistics"
"Coupling"
"Before the Fall"
About Missing Persons:
"Missing Persons is one of the best debut poetry collections that I've read in years. Jacqmin's poems are richly varied in syntax, diction, and form. They're also funny, and at times surprisingly hard-edged—but whether Jacqmin is writing about dry drunks, a fastidious Latin teacher, or a grown-up Jughead adrift in Tokyo, she never allows herself to affect an attitude of being superior to her subject matter. Instead, she patiently, faithfully seeks out real mysteries and works to articulate them in all their strangeness."
—James Arthur
"I admire the intelligent ultra talk of Hilary Jacqmin's virtuosic and revealing poems. A full life is lived on these pages, and it flickers with light and dark."
—Henri Cole
"In Missing Persons, memory is a cabinet of curiosities filled with tiny figures carved from bone, scimitars, ticking oven timers, sugar skulls. These are poems that teach us how the ordinary may be transformed; a nightgown stained with rabbit urine becomes 'yellow shantung,' a beer gut 'softly beautiful,' women's bodies 'curved like wine bottles.' Jacqmin has a particular gift for portraits in miniature. Young loves, Girl Scouts, sex ed teachers, a father, a mother—all are rendered lovely and interesting through the delicate treatment of the imagination. And, as with any wunderkammer, we want to return to the glimmering rooms of these poems again and again, discovering each time we visit something new to hold and behold."
—Jehanne Dubrow
"Jacqmin's poetry displays a wonderfully rich diction that conveys her keen eye for defining detail. Always in the mix there is her agile wit, typically gentle but mischievous too. Sometimes things are darker, but then compassionate too. Jacqmin's world ranges from a mostly predictable upper Midwest, to arresting scenes in art and literature, to the Russia of Chernobyl, to the seaport dives of downtown Baltimore. In all of these settings there are characters who choose their paths by accident or misconception, bumping their ways along as we do and continuing in ways we admire. There is a wised-up kindness and exuberance to this work that makes Jacqmin's poems the best of company, well-spoken guests always invited back."
—Wyatt Prunty
Support Verse Daily
Sponsor Verse Daily!
Home
Archives Web Weekly Features About Verse Daily FAQs Submit to Verse Daily

Copyright © 2002-2017 Verse Daily All Rights Reserved