®

Today's poem is "Last Words"
from The Selfless Bliss of the Body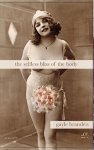 Gayle Brandeis
is the author of Fruitflesh: Seeds of Inspiration for Women Who Write and the novels The Book of Dead Birds, which won the Bellwether Prize for Fiction of Social Engagement, Self Storage, Delta Girls, and My Life with the Lincolns, which received a Silver Nautilus Book Award and was chosen as a state wide read in Wisconsin. Her memoir, The Art of Misdiagnosis, is forthcoming in 2017. She teaches in the BA and low residency MFA programs at Sierra Nevada College, where she was named Distinguished Visiting Professor/Writer in Residence, and the low residency MFA program at Antioch University, Los Angeles.
Books by Gayle Brandeis:

Other poems on the web by Gayle Brandeis:
Two poems
"Jellyfish"
Gayle Brandeis's Website.
Gayle Brandeis According to Wikipedia.
Gayle Brandeis on Twitter.
Gayle Brandeis on Facebook.
About The Selfless Bliss of the Body:
"From the title poem, The Selfless Bliss of the Body. . . 'somewhere under skirts/of black, a nun brings/herself to orgasm/' to the final poem, 'Last Words'. . . 'my love/for the world riding/ my last breath- I love you/ I love you I love you' I am enthralled, inspired; each poem a gift of wonder."
—Alma Luz Villanueva
"This is a gorgeous reflection on the body and its various questions, a celebration and exploration of the female body, as girl, woman, daughter, and mother. These tender and fierce poems are breathtaking gifts from a writer whose love for the world knows no bounds. Brandeis writes of the 'wild sugar in my skin' and asks about her mother's ashes with a hard-earned and fearless grace. This poems uplift, surprise and even disturb. This book is an absolute revelation."
—Lee Herrick
"Rarely have I felt as much affection for the narrator of a collection of poems as I do for the speaker of The Selfless Bliss of the Body by Gayle Brandeis. Here is a quiet, delicate, graceful voice that, through its desire to disappear, paradoxically becomes utterly powerful, universal, and monumental. Through the dual lens of childlike wonder and sophisticated analytical observation, Brandeis shows us that 'the body is a verb, not a noun.' And as we read on, we see that the poem is also a verb in Brandeis' prosodic hands, magically dissolving into a 'bouillon of collective unconscious,' then finding its way back to birthmark, temple, scar. This is a collection so human and so vital that the very words 'look /like they've been breathed on'—like if you reached out to touch them, they would reach back and clasp your hand."
—Melissa Studdard
"'My whole body arcing / to face itself..' Brandeis, the 'Chagall woman' writes at the beginning of this volume. Yes, it is quite a feat to face the translucent and filmy, vibrating and silent flux of being and 'almost-not-being.' For this reason alone, we must rise and applaud. Gayle offers us a rarely seen contemporary woman-metaphysics — a liquid diamond made of light areoles and auras, a floating naked body of 'surrender,' of 'danger zones,' of self-silhouettes — a 'pulse of pure movement.' These undulations of perception, eros, and constant questioning, body-life and social investigations of the continuous blur of woman-existence is key to all of our ongoing world chatter. Perhaps, with this book, this almost-self-magic collection, all of us can notice what it takes to inscribe and see our hardened rushing lives as truly meaningful, even though they come and go, as we peer at them. A monumental achievement."
—Juan Felipe Herrera
Support Verse Daily
Sponsor Verse Daily!
Home
Archives Web Weekly Features About Verse Daily FAQs Submit to Verse Daily

Copyright © 2002-2017 Verse Daily All Rights Reserved