®

Today's poem is "Graveyard Shift"
from Worth the Candle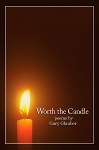 Gary Glauber
is a poet, fiction writer, and teacher. His poems and short stories have been published in a wide realm of venues, both online and in print. His works have received multiple Pushcart Prize and Best of the Net nominations. He spins his narratives and champions the underdog to the melodic rhythms of obscure power pop. His first collection, Small Co11so!atio11s (Aldrich Press), and a chapbook, Memory Marries Desire (Finishing Line Press), are available on Amazon.com.
Other poems by Gary Glauber in Verse Daily:
October 10 2015: "Odyssey" "In my line of work, nuance is dangerous...."
Books by Gary Glauber:

Other poems on the web by Gary Glauber: http://www.indianavoicejournal.com/2017/02/three-poems-by-gary-glauber-valentine.html" target="_blank"> Three poems
Two poems
"Directionless Decade"
"The Calculating"
Two poems
Three poems
Two poems
"Unwritten Rules"
Three poems
Five poems
"Anagnorisis"
Three poems
"The Moniker"
"Time Out of Joint"
Four poems
Four poems
Five poems
Two poems
"The Mix-Up"
About Worth the Candle:
"Worth the Candle by Gary Glauber is a meditation on relationships and interactions in a life where "sidewalks were his daily agenda." These accessible, narrative, and personal poems mix with both gratitude and a touch of melancholy to bring us into a world where we can see "Life as souvenir / words as evidence, / and a debit sheet that proves / the foolishness of / buying on margin." Here, the present and past walk with us as we are guided into Glauber's poems — poems crafted so we can experience the world through his nostalgic and thoughtful lens where "these bright lights only last for so long.""
—Kelli Russell Agodon
"Gary Glauber has something to say, and in Worth the Candle, he says it with wit and style and linguistic fillips that can turn from plain to ornate in the spaces between commas. Many of his longish poems tell stories which seem both personal and universal, both real and surreal, and made so through the alchemy of language. My favorite opening here is the start of "Graveyard Shift:" "The vagrant tree sprite / meets the head misfit / far along aisle five, / next to a pyramid of cereal boxes…." They are "searching for meaning / in this 24/7 universe." This is the poet's function; this is the lure of Worth the Candle. It's clear Glauber has been paying attention and it shows on every page of this canny and beguiling collection."
—Corey Mesler
"Gary Glauber uses a double lens in Worth the Candle to present panoramic views of universal truths and close-ups of personal loss: "like every life, / worth knowing in detail, / worth sharing en masse." In "Controlled Procedure," Glauber introduces a cardiologist who performs surgery on a woman who once rejected his love, summing it up with a paradox: "Through clearing an opening, he gets closure." His ear is attuned to music, both through the subjects of poems —"Music Teacher," "Anthem," "Refrain," "An Octave Apart"— and through his use of devices such as alliteration: "wizards in waiting," "sundry self-promoters," "short shrift society," slant rhyme: "brush … touch," "morn … warm," and "bleak … screech," and rhythms drawn from "the drumbeat of my own heart." The reader is invited to join him in his journey to "the place where I choose to keep singing, / and, I expect, so will you.""
—Beth Copeland
Support Verse Daily
Sponsor Verse Daily!
Home
Archives Web Weekly Features About Verse Daily FAQs Submit to Verse Daily

Copyright © 2002-2017 Verse Daily All Rights Reserved