®

Today's poem is "Paradise"
from The Moment's Only Moment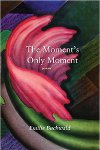 Emilie Buchwald
's poetry and prose have been published in Harper's, American Scholar, American Quarterly, Kenyon Review, Great River Review, The Lyric, When Women Look at Men, Harper's Bazaar, O. Henry Prize Stories, and The North Country Reader, among other publications. She was the editor of the Poetry Society of America's Wallace Stevens Centenary Celebration publication, and the coeditor of three poetry anthologies. Buchwald was the founding copublisher and editor of Milkweed Chronicle and Milkweed Editions. She is the founding publisher and editor of The Gryphon Press, now in its tenth year. Books she has edited have received more than two hundred awards. Buchwald is the recipient of the McKnight Distinguished Artist Award, the Kay Sexton Award, the A. P. Anderson Award, a Doctor of Humane Letters honorary degree from the University of Minnesota, and the National Book Critics Circle Ivan Sandrof Lifetime Achievement Award. Emilie and her husband, Henry, live in Minneapolis,
Books by Emilie Buchwald:

Other poems on the web by Emilie Buchwald:
"My Mother's Music"
Three poems
About The Moment's Only Moment:
"In Beating Time, one of the rich poems in Emilie Buchwald's vivid and abundant new collection of poems, the narrator says: I reach out/in the immaculate now/that is mine,/ that is all I ever had, // but that has meant everything. Once we have read this collection, we know what this poet means. Her reach is broad--to family, to poetry, to devoted friends, to passion, to the intensity of travel, to her soul and spirit reckoned with throughout this book, and always, always, to time. I recommend reading this book cover to cover. I'm so glad this work is in the world."
—Deborah Keenan
"Emilie Buchwald has the heart of a lyric poet and the soul of a story teller. 'Memory is a paradise no one can expel you from,' says a speaker in the book's last poem. It is the burden and the happy task of this book to convince its readers that this bold statement is so. What a privilege to be able to read poems that bear witness to the joys and sorrows of 'living in the moment's only moment.' Emilie Buchwald has written a gorgeous book."
—Jim Moore
"The title of Emilie Buchwald's book of poems, The Moment's Only Moment, encompasses perfectly the themes of this collection. Each poem focuses on an occasion, a moment of discovery or joy, regret or reverie, moments simple and profound. Her language, filled with music and cadence and clear, sharp imagery, is exquisite as she evokes each scene and circumstance, layering a subtle undercurrent of loss with camaraderie and wit, curiosity, and keen insight.''--Pattiann Rogers, the author of fourteen books of poetry, most recently Holy Heathen Rhapsody ''True poems, Seamus Heaney says, are not put down on a page as much as they are dug up from inside us. Emilie Buchwald's poems are such 'dug up' poems, keenly intelligent and deeply felt. Read these poems to explore the tension between what changes and what endures. Return to these poems -- now, and now, and now again."
—Katrina Vandenberg
Support Verse Daily
Sponsor Verse Daily!
Home
Archives Web Weekly Features About Verse Daily FAQs Submit to Verse Daily

Copyright © 2002-2017 Verse Daily All Rights Reserved