®

Today's poem is "Annunciation"
from Our Lady of Not Asking Why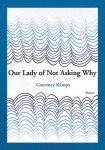 Courtney Kampa
received her B.A. from the University of Virginia and her M.F.A. from Columbia University. A finalist for the 2016 Ruth Lilly Fellowship, she is currently a Stegner Fellow.
Books by Courtney Kampa:

Other poems on the web by Courtney Kampa:
"Baby Love"
"Self-Portrait By Someone Else"
"Ars Biologica"
Five poems
"Bella Figura"
Courtney Kampa on Facebook.
About Our Lady of Not Asking Why:
"Every page of Our Lady of Not Asking Why is lit by an electric human voice. It is a collection of voices that interrogates ideas about love and takes us deep into the complicated textures of its failures as well as the achievements of its mysterious, intimate bonds. These poems explore how we understand ourselves in proximity to our myths, vocabularies, desires, and most importantly, to one another, and each audacious act of speaking possesses 1its own set of vowels,' its own 1ratifying pulse.' Courtney Kampa knows '[i]t's easy to say true things/without feeling any truth in them,' and she possesses the lyric gifts to say what is hard and make us feel the truth of it. This is beautiful, sensual work, rich with precision and poise."
—Mary Szybist
"Laden, unsparing, and luminous, the poems in Courtney Kampa1s Our Lady of Not Asking Why are acts of faith in language1s capacity to articulate the most fundamental, and crucial, human truths. Even when faced with 1something we haven1t words for,' which is not infrequently the case, Kampa1s poetry—with its layers of hypotaxis, metaphor, metanoia, and paradox ('It wants to want / for nothing, which it does, but also wants / a purpose, which it has already')—rises to the occasion by diving down into it, making the reach for the everyday ineffable (mysteries of the heart, of the past; the inner lives of others) as graceful, and gorgeous, as it is inseparable from leading a fully human life. 'There are loaves and fishes / inside us,' she writes. 'There are whole vineyards / we1ll never see.' Our Lady of Not Asking Why is a testament to the poet1s refusal not to try to see them anyway—and to the way she somehow, through the effort, lays what1s inside us bare."
—Timothy Donnelly
"If the title of Courtney Kampa1s debut collection begs the question 1why?,' her opening poem, 'Cardiac,' offers one answer: 'Heart with its headache. With its own set of vowels, / its ratifying pulse: because, because because.' And if the supporting leg—to borrow a dance term for these poems of gracious, balletic force—is girlhood (vulnerable, tensile, mythic, wary, trusting), the working leg is whatever act of blessing or forgiveness is fueled by the wounded, broken, resilient, bloodloaded nave of the heart. Wielding breath-taking lyricism and bro-nacular with equal savvy, Kampa1s fearless poems course with a ruthless, talismanic tenderness that is rare and necessary. They 'introduce us to ourselves.'"
—Lisa Russ Spaar
Support Verse Daily
Sponsor Verse Daily!
Home
Archives Web Weekly Features About Verse Daily FAQs Submit to Verse Daily

Copyright © 2002-2017 Verse Daily All Rights Reserved