®

Today's poem is "Ghost Walk After the Resurrection"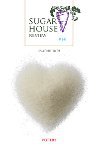 from Sugar House Review
Chelsea Dingman
is a Canadian citizen who studies poetry and teaches at the University of South Florida in the graduate program. She has poems recently published or forthcoming in Harpur Palate, The Adroit Journal, So to Speak, Quiddity, Grist: The Journal for Writers, The MacGuffin, Raleigh Review, The Fourth River, Bellingham Review, Sou'wester, among others.
Other poems on the web by Chelsea Dingman:
Three poems
"Letters from a War"
"Obedience"
Two poems
"The Suicide"
"For My Son: A Forest of Stars"
"Barbarisms"
"When the World"
"After Fleeing a War in the Second Wave"
Two poems
"Last Night I Knew Myself"
"Diaspora"
Three poems
"Letter to My Mother from the Shuswap"
"How Briefly the Body"
Two poems
"City, Surrounded"
Chelsea Dingman's Website.
Chelsea Dingman on Twitter.
Subscription: 1 year (2 issues), $12
Sugar House Review Subscriptions * P.O. Box 17091 * Salt Lake City, UT 84117
Editors: John Kippen * Nathaniel Taggart * Jerry Vanieperen * Natalie Young

Other poems from Sugar House Review in Verse Daily:
August 11, 2016: "To The Astronaut: On Impact" by Lisa Fay Coutley
August 10, 2016: "To The Astronaut: On Impact" by Cady Vishniac
August 9, 2016: "The Betta Fish, Christmas" by Julie Danho
November 1, 2015: "Meditation: On Being a Mystery to Oneself" by Carl Phillips
August 30, 2012: "from Clangings" by Steve Cramer
December 25, 2011: "Frost in the Low Areas" by Karen Skolfield
December 23, 2011: "Cursive" by Elizabeth Willis
November 5, 2011: "Everyone in Goya's Black Paintings..." by Jeff Whitney
April 20, 2011: "from Clangings" by Steven Cramer
May 25, 2010: "I Want You" by Weston Cutter
Home
Archives Web Weekly Features About Verse Daily FAQs Submit to Verse Daily

Copyright © 2002-2017 Verse Daily All Rights Reserved