®

Today's poem is "My Political Poem"
from Manhattanite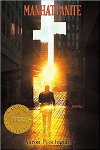 Aaron Poochigian
Sappho, Stung With Love, was published by Penguin Classics in 2009, and his translation of Apollonius's Jason and the Argonauts was released October 2014. For his work in translation he was awarded a 2010-2011 Grant by the National Endowment for the Arts. His first book of original poetry, The Cosmic Purr (Able Muse Press) was published in 2012, and several of the poems in it collectively won the New England Poetry Club's Daniel Varoujan Prize. His work has appeared in The Guardian, Poems Out Loud, and Poetry. Manhattanite is the winner of the 2016 Able Muse Book Award.
Books by Aaron Poochigian:

Other poems on the web by Aaron Poochigian:
"The Vigil"
"Divertimento"
"MMXVII"
"Song: Go And Do It"
"The Long Window"
"A Memory, Perhaps"
"Song: Post Mortem"
"Happy Birthday, Herod"
Aaron Poochigian's Website.
Aaron Poochigian on Twitter.
Aaron Poochigian on Facebook.
About Manhattanite:
In Manhattanite, his second book of poems, Aaron Poochigian takes on the role of American flâneur for the twenty-first century, drifting through the frenetic metropolis at a dreamer's planetary pace. This collection is a celebration of exuberant melancholy, or melancholy exuberance, slick lyric cum urbane pastoral."
—A. E. Stallings
"Like the shuttered diner that used to serve 'Americana-for-the-budget-patron,' Manhattanite gives us the Manhattan of speed chess players in the park, tipsy tipplers tipping off the rooftops, the night sky bright with city light, tenants, tenements and supers. Aaron Poochigian is the poet in New York seeking a holy aura in the song of gunshots and spiral sirens, picking like a grizzled pigeon through stray newspapers, bottles, bags, and candy wrappers for a scrap of religion. Each poem is a tower growing out of our human filth and scraping the sky with sky-lines, and together they build a city of words. Put New York in your pocket. It's inside this book."
—Tony Barnstone
"Reading Aaron Poochigian's Manhattanite is a dynamic, kinetic experience. These poems travel at a fast clip, pulling you along through cityscapes, wastelands, and other vistas. Some of the poems tunnel downward, plumbing depths of mood and memory. Whichever way they move, Poochigian's poems perform with such panache and brio that it's hard to know whether to laugh or cry. I'd say do both
and keep reading. But be warned: this isn't a feel-good book. It's a fearless book."
—Rachel Hadas
"Thoreau once boasted that he had traveled widely in Concord; Aaron Poochigian's title indicates that he has traveled widely elsewhere
in the one borough worth experiencing, through western deserts, aboard 'an ultra-modern train/ lisping through French or German woods,' and in a Paris of naked bulbs and seedy cabarets. In all of these settings, he deftly choreographs his cast of nameless characters. The concluding lines of 'Song: Go and Do It' (channeling both John Donne and The Intruders) claim, 'I'll still swear/ we could be happy anywhere.' One sure location of that 'anywhere' exists between the covers of Manhattanite."
—R. S. Gwynn
Support Verse Daily
Sponsor Verse Daily!
Home
Archives Web Weekly Features About Verse Daily FAQs Submit to Verse Daily

Copyright © 2002-2017 Verse Daily All Rights Reserved