®

Today's poem is "Piecework"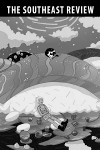 from The Southeast Review
Arne Weingart
and his family live in Chicago, where he is the principal of a graphic design firm specializing in identity and wayfinding. Recent poems have been published in Arts & Letters, Beecher's Magazine, Coal Hill Review, Enizagam, Nimrod, Oberon, Plume, RHINO, Sow's Ear Poetry Review, The Georgetown Review, The Massachusetts Review, and The Spoon River Poetry Review. His work has been nominated for a Pushcart Prize and his book, Levitation For Agnostics, is due out this year from New American Press.
Books by Arne Weingart:

Arne Weingart's Website.
About The Southeast Review:

Subscription: 1 year (2 issues), $15
The Southeast Review * Department of English * Florida State University * Tallahassee, FL 32306
Poetry Editor: Jen Schomburg Kanke
Other poems from The Southeast Review in Verse Daily:
January 7, 2016: "Dear Auduboness" by Fritz Ward
November 12, 2015: "The Cracking Place" by Ruth Foley
July 8, 2014: "An Emergency Every Day of the Week" by Christopher Citro
April 22, 2014: "The River of Ugly Fishes" by Clayton Adam Clark
July 14, 2013: "An Emergency Every Day of the Week" by Christopher Citro
May 4, 2013: "Like Father" by Rich Smith
May 2, 2013: "Love Poem for What It Is" by Rebecca Hazelton
January 16, 2012: "Dear So-and-So" by Monica Berlin
January 28, 2011: "Romanticism" by Ashley Elizabeth Hudson
September 23, 2008: "The Huntsman's Resumé" by Angela Vogel
March 31, 2008: "Ostriches" by C.J. Sage
April 14, 2006: "This Is for the Thunder" by Richard Brostoff
December 8, 2002: Between Them by Ron Mohring
December 2, 2002: Marriage as Creative Process by Julianna Baggott
Home Web Weekly Features Archives About Verse Daily FAQs Submit to Verse Daily

Copyright © 2002-2016 Verse Daily All Rights Reserved