®

Today's poem is "Easter Island"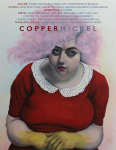 from Copper Nickel
Pamela Alexander
has published four collections of poems, including Slow Fire (Ausable/Copper Canyon, 2007). Her nonfiction has recently appeared in Cimarron Review and Denver Quarterly. She taught creative writing for many years at M.I.T. and Oberlin College and is on the editorial board of FIELD magazine.
Books by Pamela Alexander:

Other poems on the web by Pamela Alexander:
"Letter Home"
Navigable Waterways
"Look Here"
Two poems
"Hard Light"
Pamela Alexander's Website.
Pamela Alexander according to Wikipedia.
About Copper Nickel:

Subscription: 1yr (6 issues) $15
Copper Nickel * Texas Tech University * Department of English * Mailstop 43091 * Lubbock, TX 79409-3091
Poetry Editor: Carrie Jerrell


March 1, 2016: "Easterhouse (Wyoming)" by G. C. Waldrep
February 29, 2016: "Matryoshka (as Madness)" by Alexandra Teague
December 24, 2015: "Circle" by Bruce Bond
June 8, 2012: "Winter and Spring" by Randolph Thomas
March 15, 2012: "Places that have become me" by Bob Hicok
June 11, 2010: "Monster-Life" by Nathan Anderson
June 24, 2009: "Resurrection Fern" by Sara Johnson
June 21, 2009: "The Child and the Parent" by Ted Kooser
June 20, 2009: "The Fugitive Kind" by Austin Hummell
January 18, 2009: "Ovid in Exile" by John Hart
January 17, 2009: "Possum Nocturne" by Doug Ramspeck
October 13, 2008: "Over a Ballpoint" by Allan Peterson
May 15, 2008: "A wedding night" by Randolph Thomas
May 14, 2008: "Lost in the Heart of the Concert" by Pattiann Rogers
February 28, 2008: "Fold, Fold" by Mary Crow
February 25, 2008: "Anubis" by Alan Shapiro
September 19, 2007: "Elemental: Nitrogen" by Suzanne Heyd
May 18, 2007: "Autumn Again" by Michael Pettit
December 16, 2006: "Sky: An Inquiry" by Leslie Ullman
April 12, 2005: "Cardinal Virtue" by Nicky Beer
September 7, 2004: "Tantalus" by Robert B. Shaw
March 28, 2004: "Moving the Moon" by Deborah Bogen
September 22, 2003: "Aubade" by Richard Foerster
September 20, 2003: "Goodwill" by Elizabeth McLagan
Home Web Weekly Features Archives About Verse Daily FAQs Submit to Verse Daily

Copyright © 2002-2016 Verse Daily All Rights Reserved