®

Today's poem is "Stairway to Heaven Sonnet"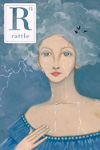 from Rattle
Denise Duhamel
's biography was not available.
Other poems by Denise Duhamel in Verse Daily:
March 6, 2013: "Recession Commandments" "thou shalt not covet thy neighbor's house..."
September 21, 2005: "eBay Sonnets" " The first time I moved to a warm climate..."
March 19, 2005: "Noah and Joan "" It's not that I'm proud of the fact..."
Books by Denise Duhamel:

Other poems on the web by Denise Duhamel:
Thirteen poems
"Ego"
Smile
"I've Been Known"
"Ai"
Four poems
Denise Duhamel According to Wikipedia.
Maureen Seaton's biography was not available.
Other poems by Maureen Seaton in Verse Daily:
June 24, 2013: "fish Tales" "Look at her, all ocean...."
February 4, 2012: "The Boat with a Boy's Heart" "He was a small boy?lighter than a shrimp boat..." (w/ Neil de la Flor)
September 6, 2002: "When I Was Straight" "....I read a book that said if you are fickle...."
August 1, 2002: "Fiddleheads" "The first time I saw hundreds of fiddlehead ferns boiling in an enormous pot..."
Books by Maureen Seaton:

Other poems on the web by Maureen Seaton:
Two poems
"When I Was Bi(nary)"
Two poems
Two poems
"Chelsea/Suicide"
Five poems
Two poems
About Rattle:

Subscription (1 year/4 issues): $20
Rattle * 12411 Ventura Blvd. * Studio City, CA 91604
Editor: Timothy Green
Other poems by Rattle in Verse Daily:
April 3, 2016: "Apron Strings" by Beth Gylys
January 17, 2016: "'It's Been a Week" by Maria Mazziotti Gillan
September 16, 2015: "Lorazepam" by Sam Sax
August 10, 2014: "My Four-Year-Old Asks What Happens When People Die and When I Hesitate She Answers Her Own Question" by Tina Parker
August 9, 2014: "Watch" by Mike White
November 8, 2013: "Tabula Rasa" by Matthew Wimberley
November 5, 2013: "At the Edge of the Hennessey Farm" by Liz N. Clift
November 4, 2013: "Universe in the Key of Matryoshka" by Ronnie K. Stephens
Home Web Weekly Features Archives About Verse Daily FAQs Submit to Verse Daily

Copyright © 2002-2016 Verse Daily All Rights Reserved