®

Today's poem is "Darkening, Brightening"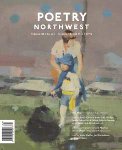 from Poetry Northwest
Carl Phillips
is the author of thirteen books of poetry, most recently Reconnaissance. He teaches at Washington University in St. Louis.
Other poems by Carl Phillips in Verse Daily:
April 22, 2016: "His Grace Asleep and Waking" "- Despite having been raised mostly to cause..."
November 1, 2015: "Meditation: On Being a Mystery to Oneself" "The oars of the ship called Late Forgiveness lift..."
June 9, 2014: "Pulling the Arrow Out" "Mumbling something about how..."
August 30, 2007: "Reciprocity" " Rest, now. All that ruggedness, blood-pain, and blindness-to-its..."
July 18, 2002: "Minotaur" "What stalked the room was never envy...."
Books by Carl Phillips:

Other poems on the web by Carl Phillips:
"Reconnaissance"
Fifteen poems
Ten poems
Carl Phillips on Twitter.
About Poetry Northwest:

Subscription: 1yr (2 issues) $18
Poetry Northwest *
Editor: Kevin Craft


September 8, 2016: "Our Fathers" by Kathleen Flenniken
July 11, 2016: "Bewilder" by Katrina Roberts
July 8, 2016: "Translation" "If this town had a mascot, it would be the man..."
July 4, 2016: "Scrap Gold" by Zach Savich
Home Web Weekly Features Archives About Verse Daily FAQs Submit to Verse Daily

Copyright © 2002-2016 Verse Daily All Rights Reserved