®

Today's poem is "You Get to Missing"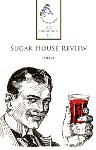 from Sugar House Review
Cady Vishniac
is a former human statue and copy editor earning her MFA at The Ohio State University. She has work out in CutBank and Rust + Moth, and placed second in the Winter 2015 Fiction Contest at Wags Revue.
Books by Cady Vishniac:

Other poems on the web by Cady Vishniac:
"How Nonviolence Protects the State"
"Morning Sickness"
"Tumuli"
Four poems
Cady Vishniac's Website.
Cady Vishniac on Twitter.
About Sugar House Review:

Subscription: 1 year (2 issues), $12
Sugar House Review Subscriptions * P.O. Box 17091 * Salt Lake City, UT 84117
Editors: John Kippen * Nathaniel Taggart * Jerry Vanieperen * Natalie Young

Other poems from Sugar House Review in Verse Daily:
August 9, 2016: "The Betta Fish, Christmas" by Julie Danho
November 1, 2015: "Meditation: On Being a Mystery to Oneself" by Carl Phillips
August 30, 2012: "from Clangings" by Steve Cramer
December 25, 2011: "Frost in the Low Areas" by Karen Skolfield
December 23, 2011: "Cursive" by Elizabeth Willis
November 5, 2011: "Everyone in Goya's Black Paintings..." by Jeff Whitney
April 20, 2011: "from Clangings" by Steven Cramer
May 25, 2010: "I Want You" by Weston Cutter
Home Web Weekly Features Archives About Verse Daily FAQs Submit to Verse Daily

Copyright © 2002-2016 Verse Daily All Rights Reserved