®

Today's poem is "Why Barbara Isn't Here"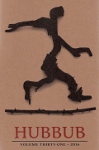 from Hubbub
Andrea Hollander
moved to Portland, Oregon, in 2011, after many years in the Ozark Mountains of Arkansas, where she ran a bed and breakfast inn for fifteen years and served as the writer-in-residence at Lyon College for twenty-two. Hollander is the author of four full-length poetry collections, including Landscape with Female Figure, a finalist for the 2014 Oregon Book Award. Other honors include two fellowships from the National Endowment for the Arts, the Nicholas Roerich Poetry Prize, the D. H . Lawrence Fellowship, a Pushcart Prize for memoir, and fellowships from the arts councils of Arkansas and Oregon. She teaches writing workshops at both the Attic Instirute and Mountain Writers Series.
Other poems by Andrea Hollander in Verse Daily:
February 9, 2016: "Funeral in Vermont" "So much hurling snow and the only colors..."
July 3, 2013: "Natural Causes" "The track was hidden by a line..."
May 13, 2009: "Thanksgiving" "Her voice has too much jewelry in it...."
July 12, 2003: "Snow White" "It was actually one of the dwarfs..."
Books by Andrea Hollander:

Other poems on the web by Andrea Hollander:
Eight poems
Two poems
"Gretel"
"Delta Flight 1152"
"Betrayal"
Three poems
"Why I Married Him"
Andrea Hollander's Website.
Andrea Hollander According to Wikipedia.
About Hubbub:

Subscription: 1 year, $7
Hubbub * 5344 S.E. 38th Avenue * Portland, Oregon 97202
Editors: Lisa M. Steinman * Jim Shugrue
Other poems by Hubbub in Verse Daily:
June 21, 2013: "Kingfisher" by J.W. Marshall
August 13, 2011: "Trapeze Swinger" by Andrew Michael Roberts
August 12 2011: "The Gallery" by Annie Lighthart
October 8, 2010: "The Dusty Smell of Hay" by Vern Rutsala
March 15, 2010: "Key" by Miles Waggener
September 18, 2009: "Elmer Rice's 'The Adding Machine'" by Marvin Bell
September 17, 2009: "Girl in a Purple Dress " by Dorianne Laux
Home Web Weekly Features Archives About Verse Daily FAQs Submit to Verse Daily

Copyright © 2002-2016 Verse Daily All Rights Reserved