®

Today's poem is "Big Statement"
from Moreover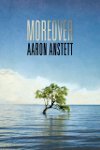 Aaron Anstett
's poetry collections are Moreover (forthcoming), Insofar as Heretofore, Each Place the Body's, No Accident, and Sustenance. Among other honors, his work has received the Nebraska Book Award, the Backwaters Press Prize, and the Balcones Poetry Prize, and he has served as a regional poet laureate, instituting a continuing project that places the work of local writers in waiting areas. He lives in Colorado with his wife, Lesley, and children.
Other poems by Aaron Anstett in Verse Daily:
March 21, 2015: "Atoms in Their Orbits" "The particulars of remembering, spray..."
September 3, 2007: "Starts Out a Mouse" " gnaws the wiring, the drunk inside him..."
August 21, 2005: "History "No one in this world remembers making love in 1648..."
Books by Aaron Anstett:

Other poems on the web by Aaron Anstett:
Four poems
"Self-Portrait with Spoiler Alerts"
Two poems
Four poems
"Free Beer Tomorrow" Aaron Anstett's Website.
About Moreover:
"What makes Aaron Anstett's poems unforgettable? Is it the last known photograph of Robert Desnos, in Theresienstadt, 1945? A pigeon feather on pavement? A speaker who asks, 'Who's most dumbstruck anything exists?' No to all of those, I'd say, for what this poet gives us are not just things and their tragedies but moments in which to witness our own gestures toward life, the acts of willed and failed attention that constitute hope—a hope both breathtaking and fleeting, as the poems unfurl line by line, in a syntax built to mend, then break, then mend again, your heart."
—Susan Tichy
"Playfully and profoundly alive to sound and sense, Aaron Anstett presents a world both shaped and shifted by language. Hard, bitter, witty, wise, the poems in this volume confront a landscape of social ruin and bright horizons, where history dissolves into moments and moments resolve in wonder, or anger, or humor. Moreover mesmerizes and is a treasure."
—Janice Gould
"Aaron Anstett has made a career of the unexpected. We're called to witness as we have before us the very essence of the spectacle of ourselves 'in history / like a robbery in progress.' Anstett's work in Moreover is both conversationally inviting and completely honest."
—John Gallaher
"With brazen eloquence, Aaron Anstett's poems continually poke the universe for a sign. Questioning, conjuring, cajoling, entreating, his is a powerful, full-throttle advancing steeped in unflinching grace and stunned luminescence. A language that will not settle."
—Maureen Owen
Support Verse Daily
Sponsor Verse Daily!
Home Archives
Copyright © 2002-2016 Verse Daily All Rights Reserved