®

Today's poem is "The Cracking Place"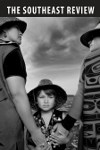 from The Southeast Review
Ruth Foley
lives in Massachusetts, where she teaches English for Wheaton College. Her work appears in numerous web and print journals, including Antiphon, The Bellingham Review, The Louisville Review, and Nonbinary Review. Her chapbook Dear Turquoise is available from Dancing Girl Press. She serves as managing editor for Cider Press Review.
Other poems on the web by Ruth Foley:
Two poems
Two poems
"Dear Turquoise,"
"Constellations"
"Common Time"
Two poems
Three poems
"The Greatest Sin is to be Unconscious"
Three poems
"Vacillating Embraces"
"Visitation"
"Lying"
"Calypso"
Three poems
Ruth Foley on Twitter.
About The Southeast Review:

Subscription: 1 year (2 issues), $15
The Southeast Review * Department of English * Florida State University * Tallahassee, FL 32306
Poetry Editor: Jen Schomburg Kanke
Other poems from The Southeast Review in Verse Daily:
July 8, 2014: "An Emergency Every Day of the Week" by Christopher Citro
April 22, 2014: "The River of Ugly Fishes" by Clayton Adam Clark
July 14, 2013: "An Emergency Every Day of the Week" by Christopher Citro
May 4, 2013: "Like Father" by Rich Smith
May 2, 2013: "Love Poem for What It Is" by Rebecca Hazelton
January 16, 2012: "Dear So-and-So" by Monica Berlin
January 28, 2011: "Romanticism" by Ashley Elizabeth Hudson
September 23, 2008: "The Huntsman's Resumé" by Angela Vogel
March 31, 2008: "Ostriches" by C.J. Sage
April 14, 2006: "This Is for the Thunder" by Richard Brostoff
December 8, 2002: Between Them by Ron Mohring
December 2, 2002: Marriage as Creative Process by Julianna Baggott
Home Web Weekly Features Archives About Verse Daily FAQs Submit to Verse Daily

Copyright © 2002-2015 Verse Daily All Rights Reserved