®

Today's poem is "Singlehanded"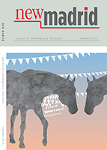 from New Madrid
Matt Salyer
is an assistant professor of English at the United States Military Academy, West Point. His work has appeared or is forthcoming in Beloit Poetry Journal, The Adirondack Review, The Florida Review, New Haven Review, and elsewhere. He was nominated for a Pushcart Prize in 2014 and is presently completing a first book titled blood land. He has two little girls—everything pales next to them.
Other poems on the web by Matt Salyer:
"I Regret One of Nine Tattoos Below the Elbow..."
About New Madrid:

Subscription: 1 year (2 issues), $15
New Madrid * Department of English and Philosophy * Murray State University * 7C Faculty Hall * Murray KY 42071-3341
Editor: Ann Neelon
Other poems by New Madrid in Verse Daily:
December 15, 2014: "Bodies" by Tim Craven
May 29, 2014: "Manhole" by Sally Wen Mao
May 23, 2014: "King Country Metro" by Sally Wen Mao
December 20, 2012: "Albert the Pig Speaks" by Adam Day
December 11, 2012: "Mother's Hair" by Adam Day
February 12, 2012: "Ode to Ink" by Lee Upton
August 30, 2010: "The Incredible Shrinking Fool" by William Trowbridge
March 14, 2010: "The Leisure Class" by Robert Avery
February 4, 2010: "Because the Body is Made of Water" by Ephraim Scott Sommers
February 27, 2009: "Intelligent Design" by Richard Cecil
September 24, 2008: "My Lives" by Al Maginnes
Home Web Weekly Features Archives About Verse Daily FAQs Submit to Verse Daily

Copyright © 2002-2015 Verse Daily All Rights Reserved