®

Today's poem is "Forced Analogy"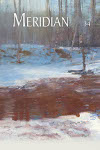 from Meridian
John Estes
directs the Creative Writing Program at Malone University in Canton, Ohio. The author of the collecction Kingdom Come (C&R Press, 2011) and two chapbooks: Breakfast with Blake at the Laocoon (Finishing Line Press, 2007) and Swerve (Poetry Society of America, 2009). He holds a PhD with emphases in poetics and environmental literature from the University of Missouri.
Other poems by John Estes in Verse Daily:
March 27, 2014: "Slow News" "These are momentary sensations, the wild, the windswept...."
September 15, 2011: "I Foresee the Breaking of All That Is Breakable" "Perhaps after all it is, merely, a desire..."
November 10, 2009: "Stray Paragraphs, February, Year of the Rat" "Why we resist coming after, coming second, coming late..."
Books by John Estes:

Other poems on the web by John Estes:
"The Cell"
"Retroactive Continuity"
"Spare Myths"
"The Poem As Lifehack"
[At the solstice]
"Creamline"
"Round About"
"Last Supper"
"Epithalamium"
John Estes's Website.
About Meridian:

Subscription: 1 year (2 issues), $10
Meridian * University of Virginia * P.O. Box 400145 * Charlottesville, VA 22904-4145
Editor: Ryan Fox

Other poems from Meridian in Verse Daily:
July 5, 2007: "Now You See Me" by Elizabeth Bradfield
July 3, 2007: "For My Biographers, Hints of My Lover" by Molly Tenenbaum
February 25, 2007: "No Picnic" by Lisa Russ Spaar
February 24, 2007: "Parts of a Feather" by Matthew Gavin Frank
February 21, 2007: "If I Could Throw My Voice" by Keith Althaus
February 19, 2007: "Sky One" by Nance Van Winckel
July 13, 2006: "The Sign" by Elizabeth Sanger
July 12, 2006: "Domiciliary of the State" by Kevin Barents
July 11, 2006: "Poem Against Poem" by George Moore
February 22, 2006: "If You Cannot Be True" by Hayden Draper
July 1, 2005: "Greenhouse" by Rebecca Givens
June 30, 2005: "Animals" Alison Powell
June 27, 2005: "Tehachapi" St. James Wood
February 10, 2005: "Ecclesiastes" by Susan L. Miller
November 3, 2004: "'Thank You'" by Mia Leonin
June 3, 2004: "The Given" by Lawrence Revard
June 1, 2004: "Oyster Shard" by Sarah M. Brownsberger
May 31, 2004: "Behind the Fear of Flying" by Jason Nemec
February 2, 2004: "An Admonition" by Seamus Heaney
November 11, 2003: "Impossible Garden" by John Isles
July 24, 2003: "from The Decalogue (III)" by Susan Wood
July 22, 2003: "The Runes, the Brute Remedies" by Elton Glaser
January 30, 2003: "Ode on Satan's Power" by Barbara Hamby
September 8, 2002: "Plato and the Fall" by David Young
September 4, 2002: "Blue Colonial" by David Roderick
August 26, 2002: "Improvident Knowledge" by R. T. Smith
Home Web Weekly Features Archives About Verse Daily FAQs Submit to Verse Daily

Copyright © 2002-2015 Verse Daily All Rights Reserved