®

Today's poem is "Pigeons"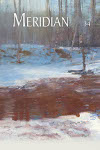 from Meridian
Devon Moore
is a native of Buffalo, New York. She currently teaches writing at Syracuse University and Le Moyne College. A former Syracruse University Fellow, she has an MFA in Creative Writing from Syracruse University. Her poems have appeared in Gulf Coast, Foothill, Ovenbird, Cider Press Review, Harpur Palate, Stone Canoe, and The Cortland Review. Her debut book of poems, Apology of a Girl Who is Told She is Going to Hell, is forthcoming from Mayapple Press in April 2015.
Other poems by Devon Moore in Verse Daily:
May 29, 2011: "Remedial Weeding" "You don't need to know its name..."
Books by Devon Moore:

Other poems on the web by Devon Moore:
"Red"
"Burial"
"The Caged Girl Wishes That The Man in the Volcano Was Free Like Her"
Devon Moore according to Wikipedia.
Devon Moore on Twitter.
About Meridian:

Subscription: 1 year (2 issues), $10
Meridian * University of Virginia * P.O. Box 400145 * Charlottesville, VA 22904-4145
Editor: Ryan Fox

Other poems from Meridian in Verse Daily:
November 9, 2015: "Forced Analogy" by John Estes
July 5, 2007: "Now You See Me" by Elizabeth Bradfield
July 5, 2007: "Now You See Me" by Elizabeth Bradfield
July 3, 2007: "For My Biographers, Hints of My Lover" by Molly Tenenbaum
February 25, 2007: "No Picnic" by Lisa Russ Spaar
February 24, 2007: "Parts of a Feather" by Matthew Gavin Frank
February 21, 2007: "If I Could Throw My Voice" by Keith Althaus
February 19, 2007: "Sky One" by Nance Van Winckel
July 13, 2006: "The Sign" by Elizabeth Sanger
July 12, 2006: "Domiciliary of the State" by Kevin Barents
July 11, 2006: "Poem Against Poem" by George Moore
February 22, 2006: "If You Cannot Be True" by Hayden Draper
July 1, 2005: "Greenhouse" by Rebecca Givens
June 30, 2005: "Animals" Alison Powell
June 27, 2005: "Tehachapi" St. James Wood
February 10, 2005: "Ecclesiastes" by Susan L. Miller
November 3, 2004: "'Thank You'" by Mia Leonin
June 3, 2004: "The Given" by Lawrence Revard
June 1, 2004: "Oyster Shard" by Sarah M. Brownsberger
May 31, 2004: "Behind the Fear of Flying" by Jason Nemec
February 2, 2004: "An Admonition" by Seamus Heaney
November 11, 2003: "Impossible Garden" by John Isles
July 24, 2003: "from The Decalogue (III)" by Susan Wood
July 22, 2003: "The Runes, the Brute Remedies" by Elton Glaser
January 30, 2003: "Ode on Satan's Power" by Barbara Hamby
September 8, 2002: "Plato and the Fall" by David Young
September 4, 2002: "Blue Colonial" by David Roderick
August 26, 2002: "Improvident Knowledge" by R. T. Smith
Home Web Weekly Features Archives About Verse Daily FAQs Submit to Verse Daily

Copyright © 2002-2015 Verse Daily All Rights Reserved