®

Today's poem is "Father Time Has a Face Made of Late-Season Vegetables"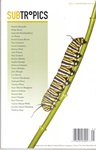 from Subtropics
Rebecca Lehmann
is the author of Between the Crackups. Her poems have been published in Tin House, The Gettysburg Review, The Iowa Review, and other journals.
Books by Rebecca Lehmann:

Other poems on the web by Rebecca Lehmann:
"A Gun In The First Act"
"Watching The Wizard of Oz Summer 1988"
Two poems
Rebecca Lehmann's Website.
Rebecca Lehmann on Twitter.
About Subtropics:

Subscription: 1 year, $26
Subtropics * Subtropics * P.O. Box 112075 * 4008 Turlington Hall * University of Florida * Gainesville, FL 32611-2075
Poetry Editor: Sidney Wade
Other poems by Subtropics in Verse Daily:
May 29, 2013: "Sciurus Carolinesis" by Max Garland
May 28, 2013: "Mambo Habana" by Philip Alvaré
July 28, 2012: "Mom, watch—" by Jennifer Richter
February 22, 2012: "I tried to write the truth, but it made me miserable" by Karyna McGlynn
March 31, 2011: "To the Field of Scotch Broom That Will Be Buried by the New Wing of the Mall" by Lucia Perillo
March 30, 2011: "Dear Fringe" by Erin Murphy
March 28, 2011: "zoo sonnet" by dawn lonsinger
March 27, 2011: "High Rise" by Les Murray
March 26, 2011: "The sparrows gather nearby..." by David Harris Ebenbach
October 5, 2010: "Bombing the City" by Wayne Miller
October 4, 2010: "To Whom It May Concern:" by Erika Meitner
August 20, 2009: "Green Heron" by Daniel Wolff
August 14, 2009: "If Palinurus" by Timothy O'Keefe
August 11, 2009: "Shark" by Heather Hamilton
August 10, 2009: "I Will Begin Tagging "Sad Robot Inc...." by Kate Angus
August 7, 2009: "The Reclamation of Paradise" by Stephen Kampa
April 5, 2009: "Monday" by Randall Mann
April 3, 2009: "A History in Six Couplets" by Idra Novey
April 1, 2009: "Scales of Little Wisdom" by Roberto Juarroz (translated by Mary Crow)
July 24, 2008: "Tuning Fork" by Bruce Bond
July 22, 2008: "Bicycling from Todtnauberg" by Suzanne Zweizig
Home Web Weekly Features Archives About Verse Daily FAQs Submit to Verse Daily

Copyright © 2002-2013 Verse Daily All Rights Reserved