®

Today's poem is "Little Thieves"
from This Time Tomorrow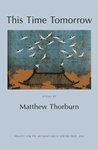 Matthew Thorburn
is the author of two previous books of poems, Subject to Change and Every Possible Blue, and a chapbook, Disappears in the Rain. He is the recipient of a Witter Bynner Fellowship from the Library of Congress, as well as fellowships from the Bronx Council on the Arts and the Sewanee Writers' Conference. His poems have appeared in journals such as The Paris Review, Michigan Quarterly Review and Ploughshares, and he has contributed essays and book reviews to Jacket, Pleiades, Rowboat: Poetry in Translation and other journals. He lives in New York City.
Other poems by Matthew Thorburn in Verse Daily:
October 24, 2012: "There's this string" "I follow I don't know..."
August 11, 2012: "Hokkaido Photo" "Me, I'm the square silver camera..."
February 20, 2008: "Driving Out to Innisfree" "Naturally we zipped right by...."
March 27, 2006: "Horse Poetica" " The one I rode in on. That mud-colored nag...."
Books by Matthew Thorburn:

Other poems on the web by Matthew Thorburn:
"Pylsur"
Five poems
Two poems
Two poems
Five poems
"Homage to Tom Andrews"
"The Trick with the Stick"
Three poems
Matthew Thorburn's Website.
Matthew Thorburn According to Wikipedia.
About This Time Tomorrow:
"Matthew Thorburn's This Time Tomorrow takes us on a journey of self-discovery – a physical journey over Icelandic water turned to barbaric glass by volcanic eruptions and, at the same time, a saga of Japan merging with memories of Asian things past – all cast in his particular calligraphic script. He cites Basho's unhappiness at being 'in Kyoto' while, at the same time, 'longing for Kyoto.' Thorburn seems to lament that wherever he is physically, mentally he is elsewhere. Perhaps this is the indirectly stated point of his saga: Wherever we are we are not. Why not?"
—Stanley Barkan
"Matthew Thorburn's poems chronicle both what we think we're looking for and how we look – a bittersweet journey that underscores our inability to stay, or be, in any one place for more than its moment, thus engaging what it means to be here at all. But if mistaking a billboard of Mt. Fuji for Mt. Fuji itself names the inauthentic in the search for the authentic, Thorburn's poems also tell us wonderfully that a plastic leaf falling can allow us to hear birds singing. Because, finally, what his journey reveals is the desire that lies both with and as the source of artifice, the true feeling only encountered by taking our chances with the fleeting landscape of the heart."
—Maxine Scates
"This Time Tomorrow contains some of the best travel poems being written today. In vivid and surprising accounts of his travels, Thorburn's eye for particulars never lets him down. He is a master of simultaneous action and perception. A dog-sled driver in Iceland rates equal billing with what the poet sees on the dog-sled ride, and the realities of present-day tourism become part of the story: 'we sipped / instant coffee while he waited / for our Visa to go through.' Gloria, disappointed in love in Kyoto, is as important as the famous temples and hermitages there. Matthew Thorburn is smart, alert and always good company on the road."
—Richard Tillinghast
"Matthew Thorburn's This Time Tomorrow is a series of travelogues that are simultaneously internal and external. Though the poems are set in Iceland, Japan and China, and rich with fresh imagery of those places, his real subject is 'the built-in sadness of travel,' with 'sadness' conjuring the innate interiority of being in foreign lands. Like Basho he chronicles the way that passing through the physical world with genuine curiosity and openness can cause sudden rifts to open, yielding profound glimpses into human consciousness. In a voice that is inventive, natural, honest and always clear, Matthew Thorburn has given us an exciting extended meditation on what it means to study the ever-surprising geography of one's own mind."
—Chase Twichell
Support Verse Daily
Sponsor Verse Daily!
Home Archives
Copyright © 2002-2013 Verse Daily All Rights Reserved