®

Today's poem is "Refrain"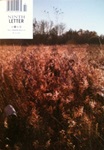 from Ninth Letter
Maggie Glover
's work has appeared in The Journal, Smartish Pace, Verse Daily, 32 poems, and other literary journals. Born and raised in Pittsburg, Pennsylvania, she earned a BA from Denison University and an MFA from West Virginia University, where she was awarded the games Paul Brawner Poetry Award in 2007. She Lives in San Francisco.
Other poems by Maggie Glover in Verse Daily:
April 15, 2009: "On Finally Blaming Myself a Little Finally" "My porch upon the cliff, my house upon the mountain..."
Other poems on the web by Maggie Glover:
Two poems
"In West Virginia"
"On the Porch, While You Were Out of Town"
"This Month in Vogue"
"On the Porch, While You Were Out of Town"
"Free Stitchery on Readily Countable [Love]"
Two poems
Maggie Glover's Website.
Maggie Glover on Twitter.
About Ninth Letter:

Subscription: 1 year (2 issues), $21.95
Ninth Letter * University of Illinois * Department of English * 608 South Wright St. * Urbana, IL 61801
Poetry Editor: Michael Madonick
Other poems by Ninth Letter in Verse Daily:
September 10, 2012: "Match" by Brynn Saito
August 19, 2011: "Peccadillo" by Scott Minar
July 29, 2010: "Unusable Elegy" by Zachary Harris
July 28, 2010: "Youths" by Michael Rutherglen
July 26, 2010: "Love Note" by Leslie Adrienne Miller
February 3, 2010: "Waking Up at the Wheel" by Christopher Kennedy
February 2, 2010: "Maimonides on What Is Meant by 'Vision'" by Benjamin Paloff
June 19, 2009: "A Great Whirring" by Bruce Snider
June 18, 2009: "It Is Virtually Without Thickness and Has Almost" by Angie Estes
June 16, 2009: "The Widdershins Garden" by Olivia Clare
Home Web Weekly Features Archives About Verse Daily FAQs Submit to Verse Daily

Copyright © 2002-2013 Verse Daily All Rights Reserved